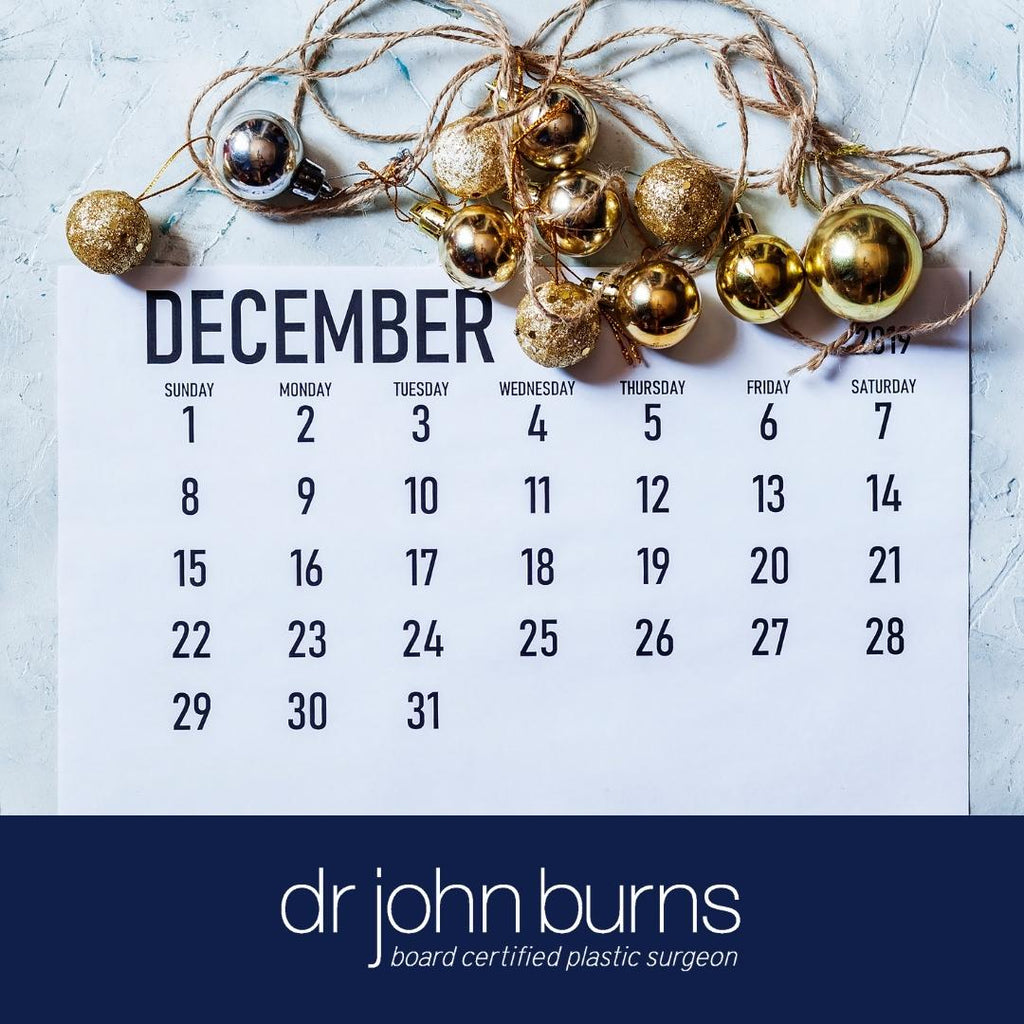 Your Holiday Plastic Surgery Planning Guide
If you're planning to use Christmas break to have your tummy tuck or you're wondering if your facelift results will look great in time for the New Year celebrations, we're here to help.  We've put together a timeline to help you navigate your healing journey for plastic surgery procedures so that you're looking and feeling your best in time for the holiday season and new year.  
Cosmetic Surgery: Recovery Timing Is Everything
Before we talk about plastic surgery recovery planning, we want to make sure that, whether you've had a virtual consultation or an in-person consultation, your plastic surgeon has thoroughly reviewed your medical history and cosmetic surgery goals in detail to ensure you are healthy enough for plastic surgery. During your personal consultation, your procedure details and medical care should also be covered prior to scheduling your cosmetic procedure.
When planning for your procedure, we always recommend beginning your planning by consulting your calendar for personal upcoming milestone events such as reunions, birthdays, and anniversaries, bearing in mind personal and business trips.
From there, you'll need to schedule your cosmetic surgery well in advance for plenty of time to heal. To do that, you need to know how much time you need to properly heal and what you can and shouldn't do while healing so you can confidently debut your new, well-healed look in time for your special event. We're listing the recovery details of our most popular procedures here to help you get started.
Recovery Time For Breast Augmentation 
Patients who are generally healthy recover from breast augmentation better and faster.  For healthy patients, Dr. Burns' rapid recovery breast augmentation procedure is designed to help breast augmentation patients bounce back from surgery quickly. Patients are encouraged to engage in normal activities of daily living such as showering, drying their hair, and arm movement. Returning to work is generally possible within 2 or 3 days, so you can have your surgery on a Thursday with weekend recovery time and back to work on Monday.  Light exercise such as treadmill walking, spin class, or elliptical trainer is possible within a week. More aggressive exercises such as weight training, yoga, Barre classes, jogging, or Crossfit can be resumed in 4 to 6 weeks. Full recovery from breast augmentation takes several weeks, but you will look great and ready for most events immediately after surgery 
Click here  to read Dr. Burns's breast augmentation reviews
Tummy Tuck Recovery
Dr. John Burns is one of the nation's leading body contouring board-certified plastic surgeons and practices a short scar bikini line incision technique that helps to hide your tummy tuck incision, minimizing aspects of your healing and recovery. Cutting-edge plastic surgery techniques, Vaser liposculpture, 3 vector muscle plication, and Exparel pain control will improve your cosmetic outcome and shorten the recovery process. And of course, Dr. Burns will determine what type of tummy tuck is right for you during your cosmetic surgery consultation, 
For the first 1-2 days after tummy tuck surgery, patients should have a caregiver assist them with activities such as getting up, using the restroom, meal prep, and caring for children. (If you are unable to arrange for in-home help, we offer overnight nursing care in Dallas Plastic Surgery Institute's  Cloister Recovery Center). During this time, patients should avoid strenuous activity including heavy lifting, running, jumping, and swimming. In most cases, patients are typically able to return to work within two weeks of surgery. Patients can return to more strenuous activities like exercise by 4-6 weeks, with swelling mostly gone by 2 months after surgery.
Rhinoplasty Recovery
Most of the early recovery involved with rhinoplasty is attributed to splints on the outside and inside of your nose which is removed after one week. If you're wanting a pre-holiday nose job, give yourself about 10-14 days before you're ready to be out and about doing normal activities and at a couple of weeks before attending a special event. You can return to work with makeup after 1 week. Due to the nature of the area and the techniques involved in sculpting the nose, swelling takes a little longer to completely resolve (6 months) but as your nose continues to heal, your face won't scream "plastic surgery". 
To view rhinoplasty results by Dr. Burns, click here.
Facelift Surgery Recovery
Facelifts are one of the most exciting "reveal procedures," and a little more time out of the public eye is needed to position yourself for faster healing. Generally, patients are able to return to work wearing makeup one week following facelift surgery. We recommend avoiding strenuous cardiovascular activity for 2 weeks after surgery to give your body time to properly heal. With facelift surgery, swelling typically takes 1-2 months to completely resolve. If you want to be sure you look fabulous before an important party or event, we recommend giving yourself 4 weeks of recovery to be safe.
For patients who want to add Botox or dermal fillers to enhance their facelift results, we recommend cosmetic injection treatments 2-4 weeks prior to your scheduled event. 
To schedule your facelift consultation with Dr. Burns, click here. 
Plan Well, Heal Well, With Dr. Burns
It's important to know what to expect when recovering from cosmetic surgery.  Anyone considering plastic surgery should be well-prepared so they heal optimally, not just to return to normal activities but to also be ready for important occasions.
Dr. Burns and his surgical care coordinator are available to answer all of your plastic surgery recovery questions so that you can feel comfortable knowing what to expect after your surgery.
To contact our team with a question or to schedule your consult, click here.
If needed, our team can also review financing options and assist with travel arrangements to help your experience run smoothly.
________________________________________
Dallas plastic surgeon Dr. John Burns, is President of the prestigious Dallas Plastic Surgery Institute and a nationally-recognized expert in facial rejuvenation, fat transfer to the face, breast, and body, cosmetic breast and body surgery welcomes the opportunity to discuss your cosmetic goals with you.  To make an appointment, simply call his office at 214-515-0002, or send an email through his website.  Online consultations are also available.  Dr. Burns and his staff look forward to meeting you!