Buttock Augmentation- Natural Results-BBL Expert Dr. John Burns, FACS
What Is A Brazilian Butt Lift (BBL)?
Buttock augmentation addresses the size, shape, and projection (contour) of the buttocks. While its name suggests that lifting of the gluteus muscles involved in the procedure, the buttocks are enhanced with either buttock implants, fat, or both. BBL is a common plastic surgery procedure today and one of the top procedures for women who desire more curves without exaggerated, enlarged buttocks.
How is a Brazilian Butt Lift Performed?
Gluteal augmentation is performed in a couple of different ways:

-Butt implants, and
-Via fat transfer or fat injections to the butt.

Some board-certified plastic surgeons will combine the two methods to maximize volume at the buttocks.
The use of solid silicone implants is a popular method for buttock enhancement in some areas of the world, and while butt implants volumize and shape the buttocks, once placed, the implants are permanent unless surgically removed.

During the procedure itself, silicone implants are placed within the gluteal muscles, resulting in extended downtime to allow the buttock muscles to repair and heal. While butt implants are an option for patients who lack fat stores needed in a fat transfer butt augmentation, silicone implants have many common side effects including chronic pain, infection, seroma formation (fluid collections around the implants), and buttock hardening with an unnatural feel.
*Because of these risk of complications, and general concern for patient safety and satisfaction, in Dr. John Burns' plastic surgery practice, buttock augmentation using gluteal implants is avoided altogether.
Fat Transfer BBL- Natural Butt Lift
Autologous fat transfer, also known as fat grafting, has the advantage of being a completely natural method for enhancing the size and shape of the butt.

Liposuction is used to collect or "harvest" fat from various areas on the body such as the abdomen, love handles, thighs, and around the buttocks. The fat is purified and carefully injected with precision to fill in hip dips, add projection, and enhance the shape of the butt.In his BBL procedure, Dr. Burns will use VASER® ultra-sound assisted liposuction to harvest the maximum amount of fat for injection.

Fat transfer patients reap the benefit of unwanted fat removal, additional body contouring (in most cases 360 liposuction), and sculpting the buttocks
view bbl photos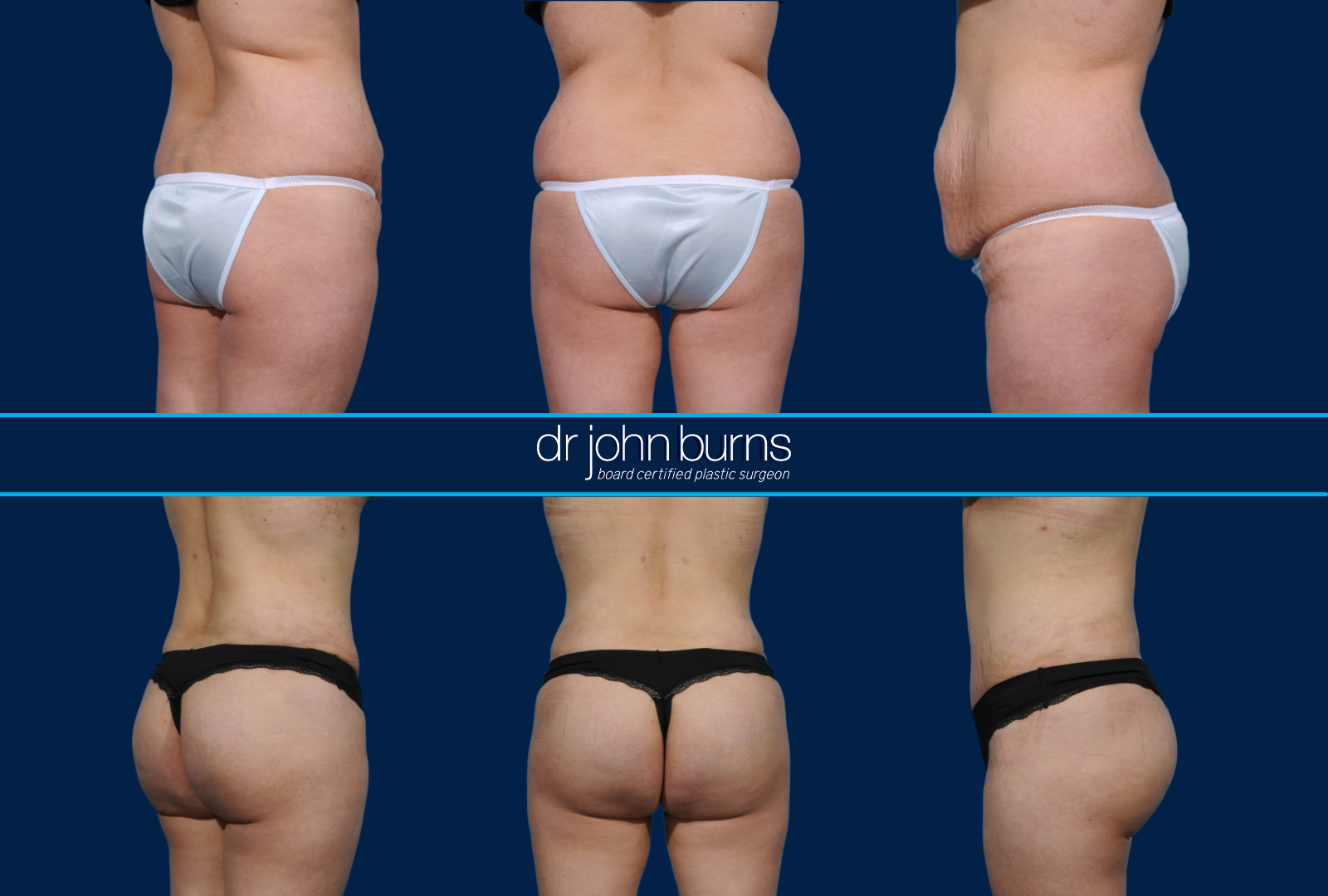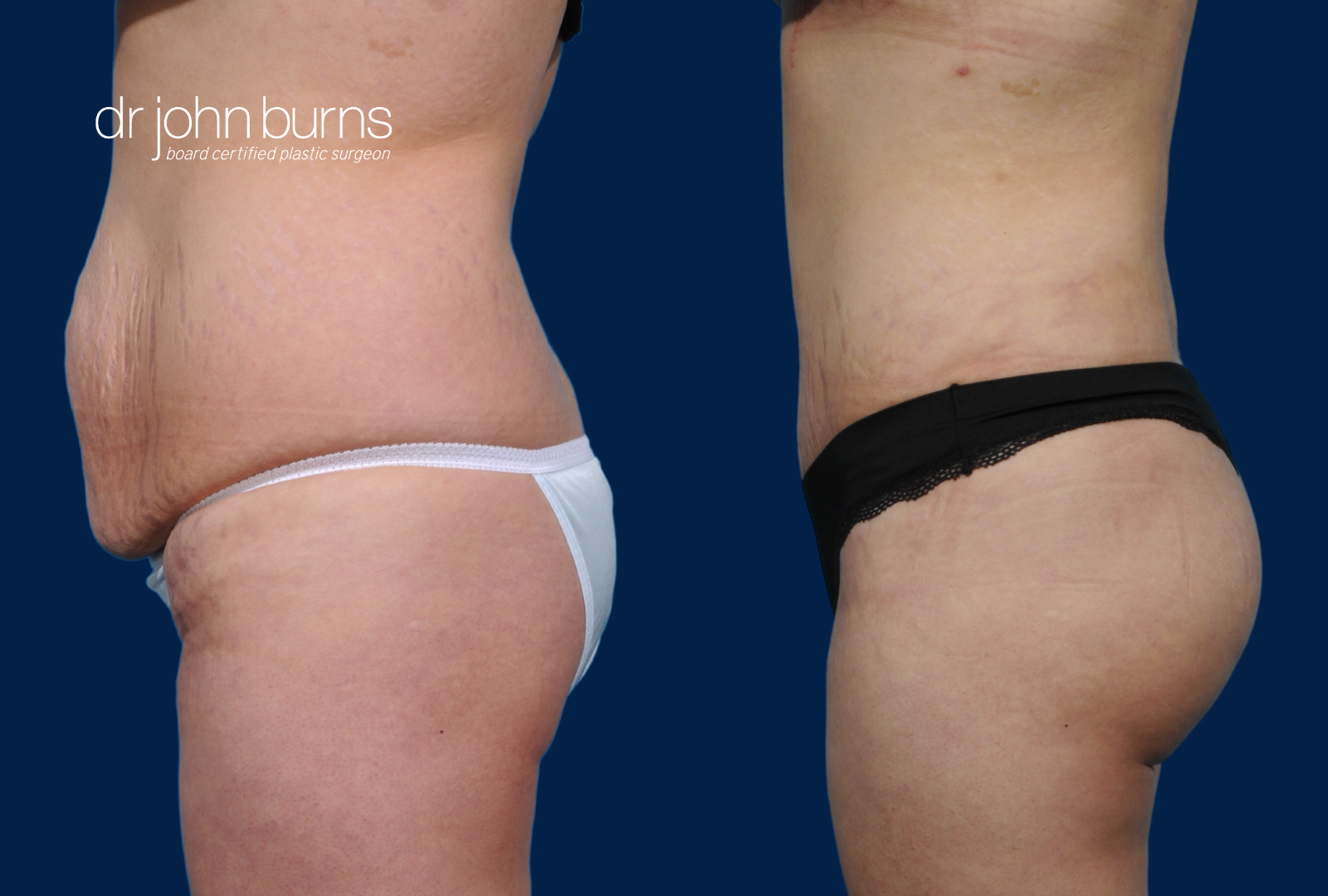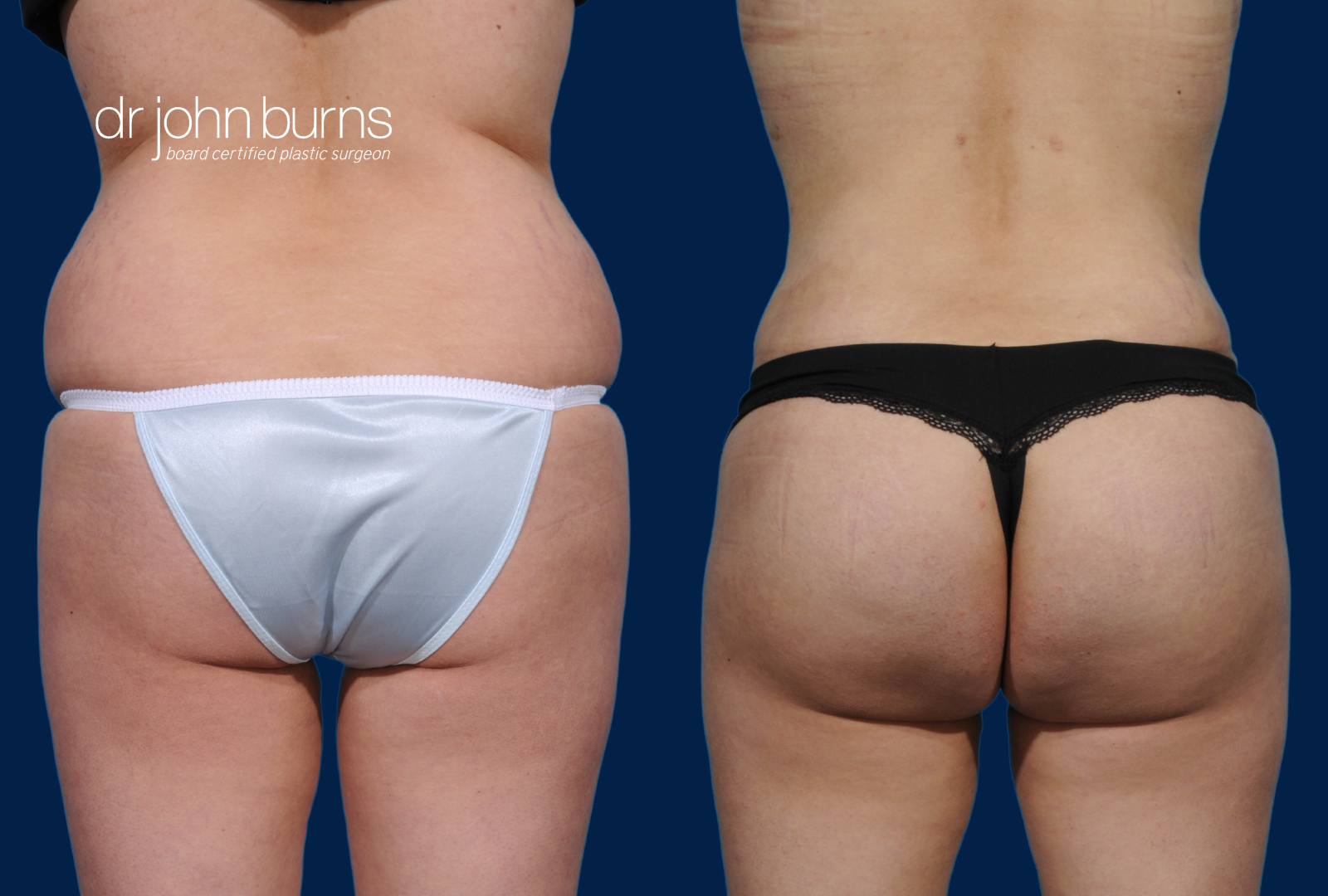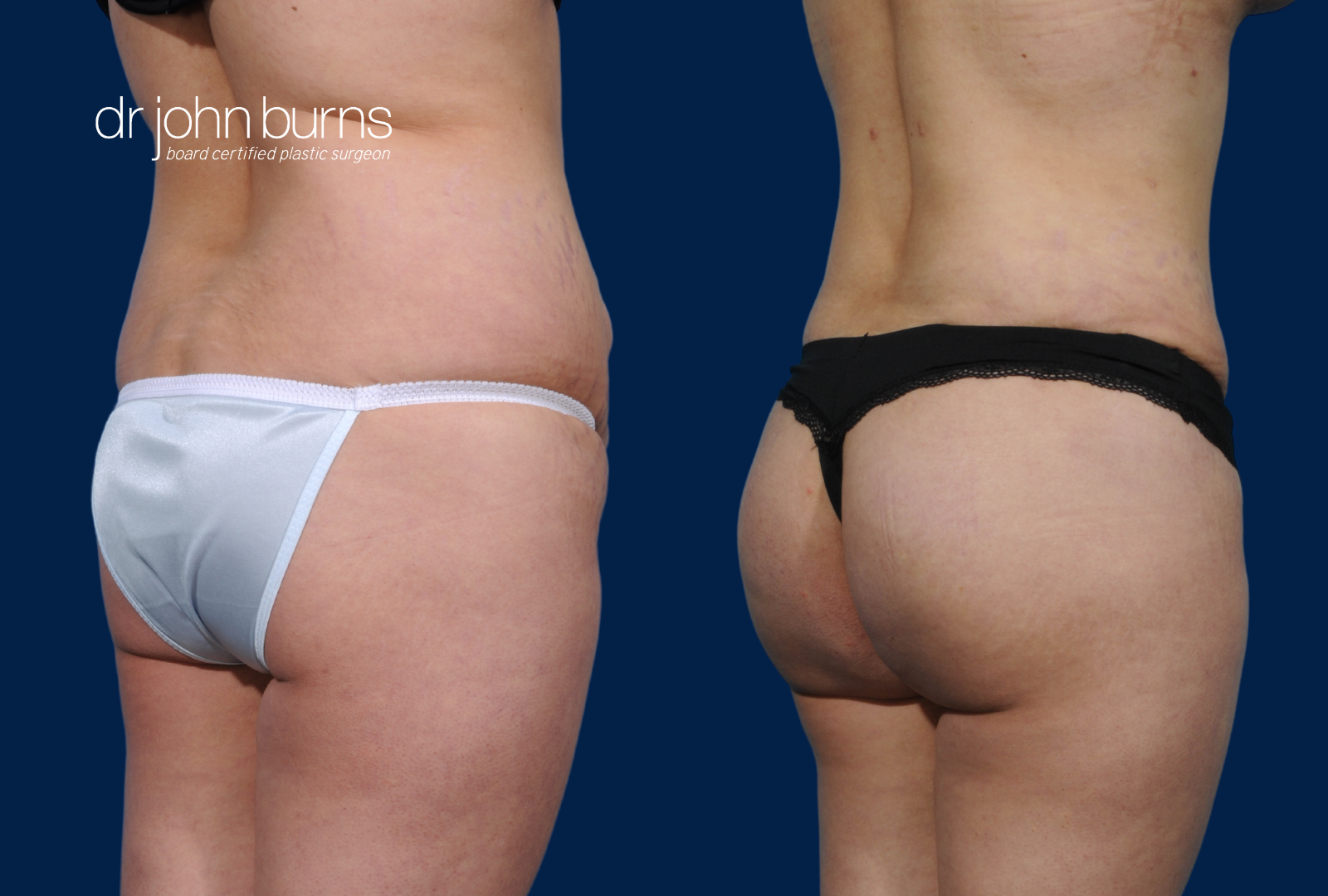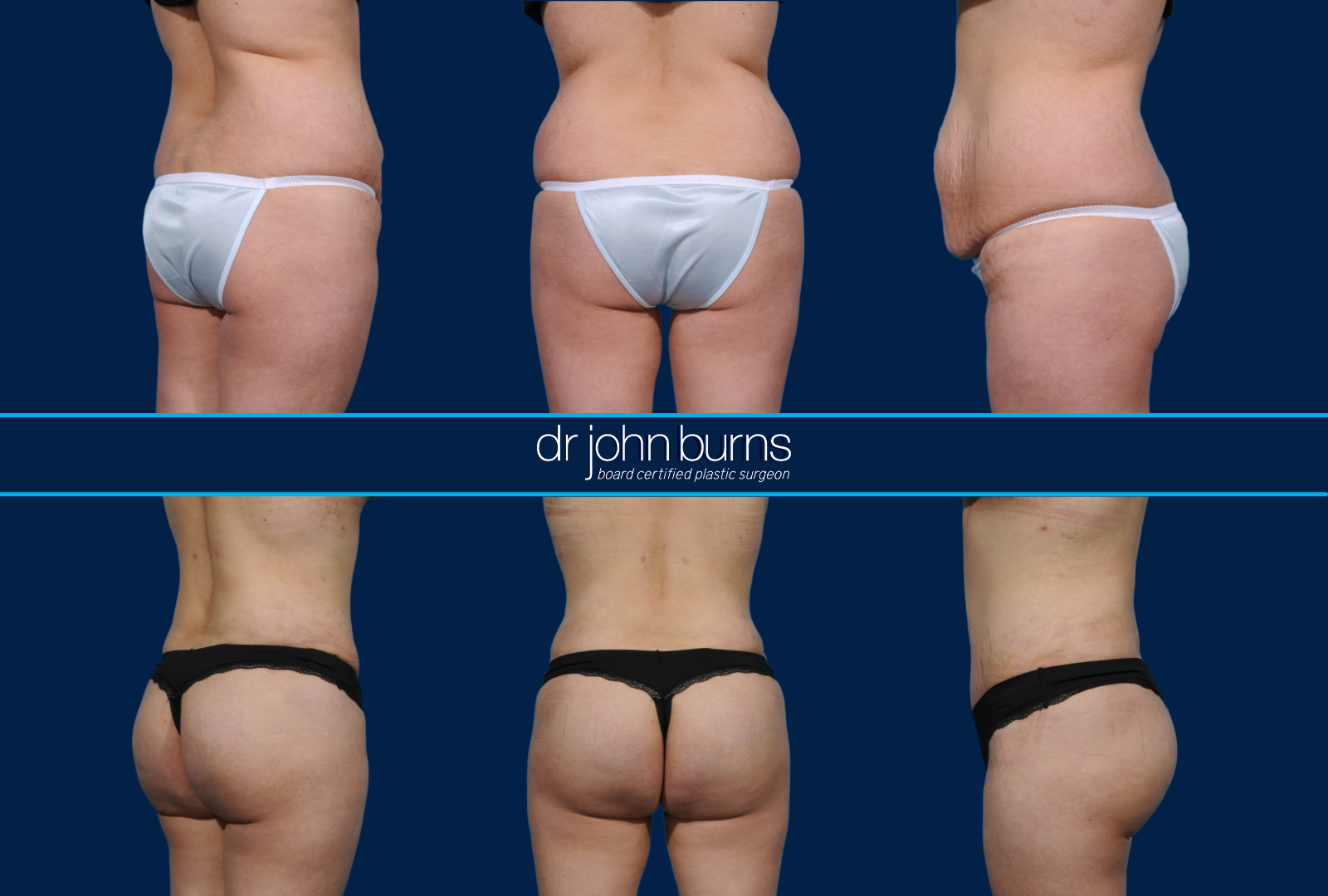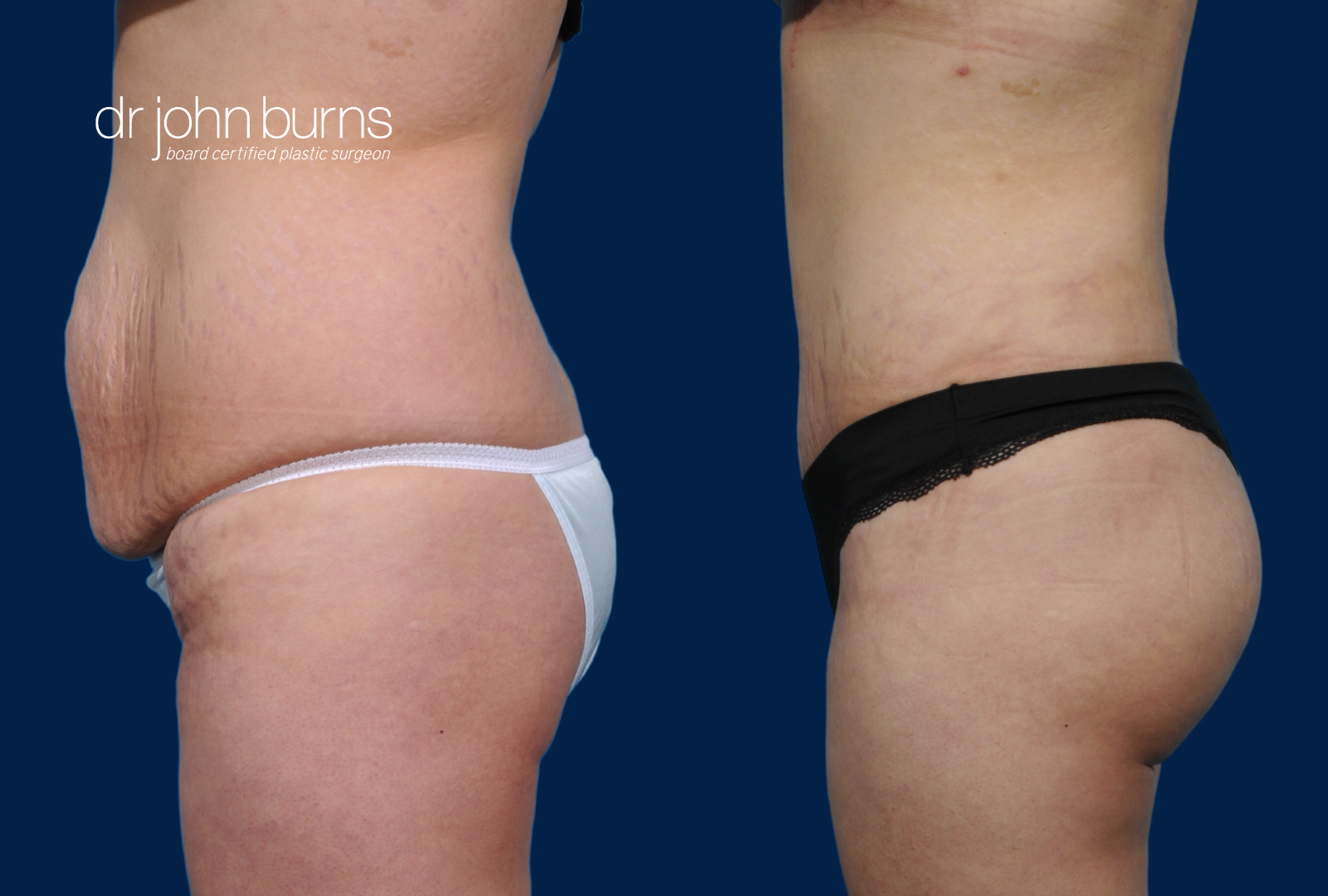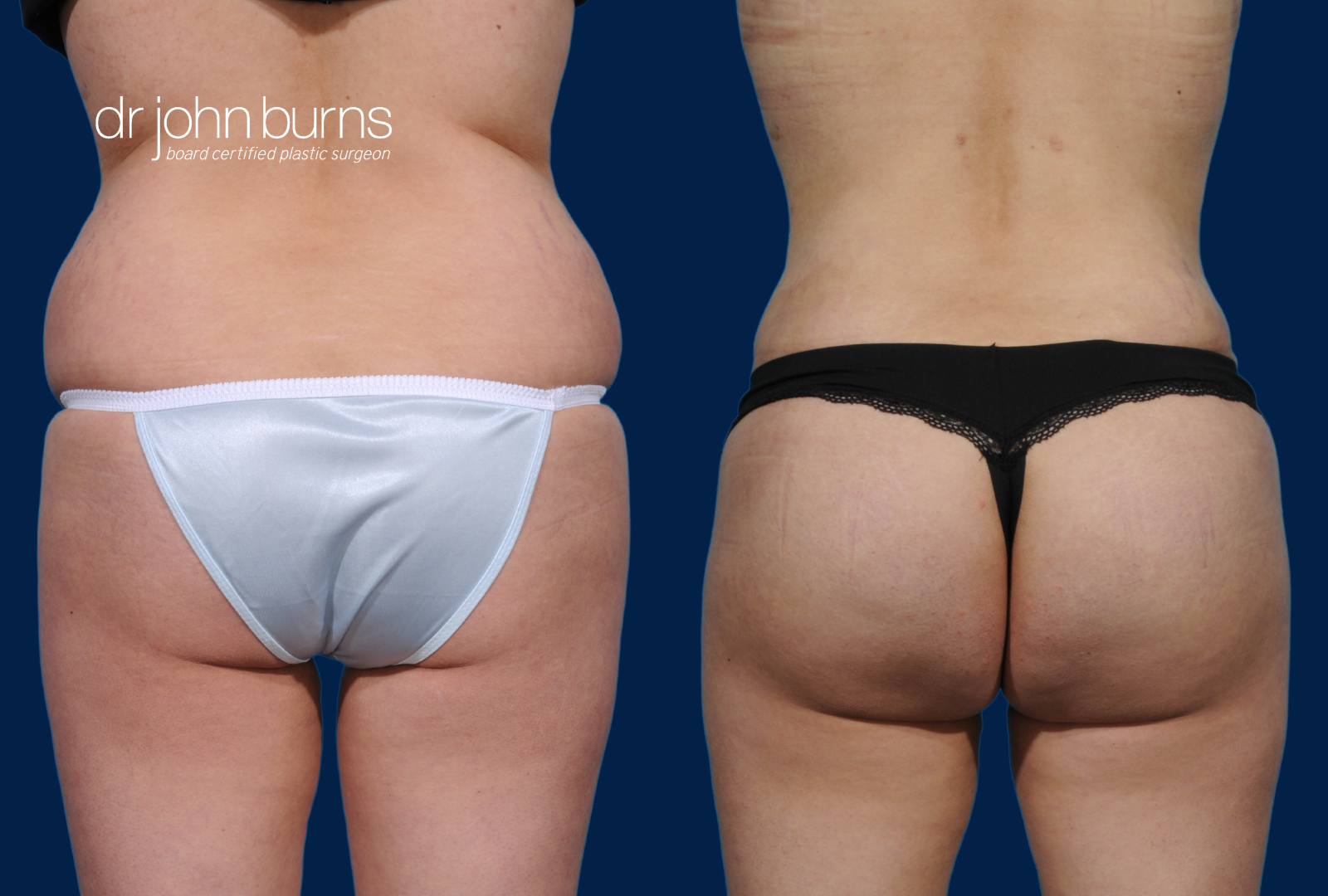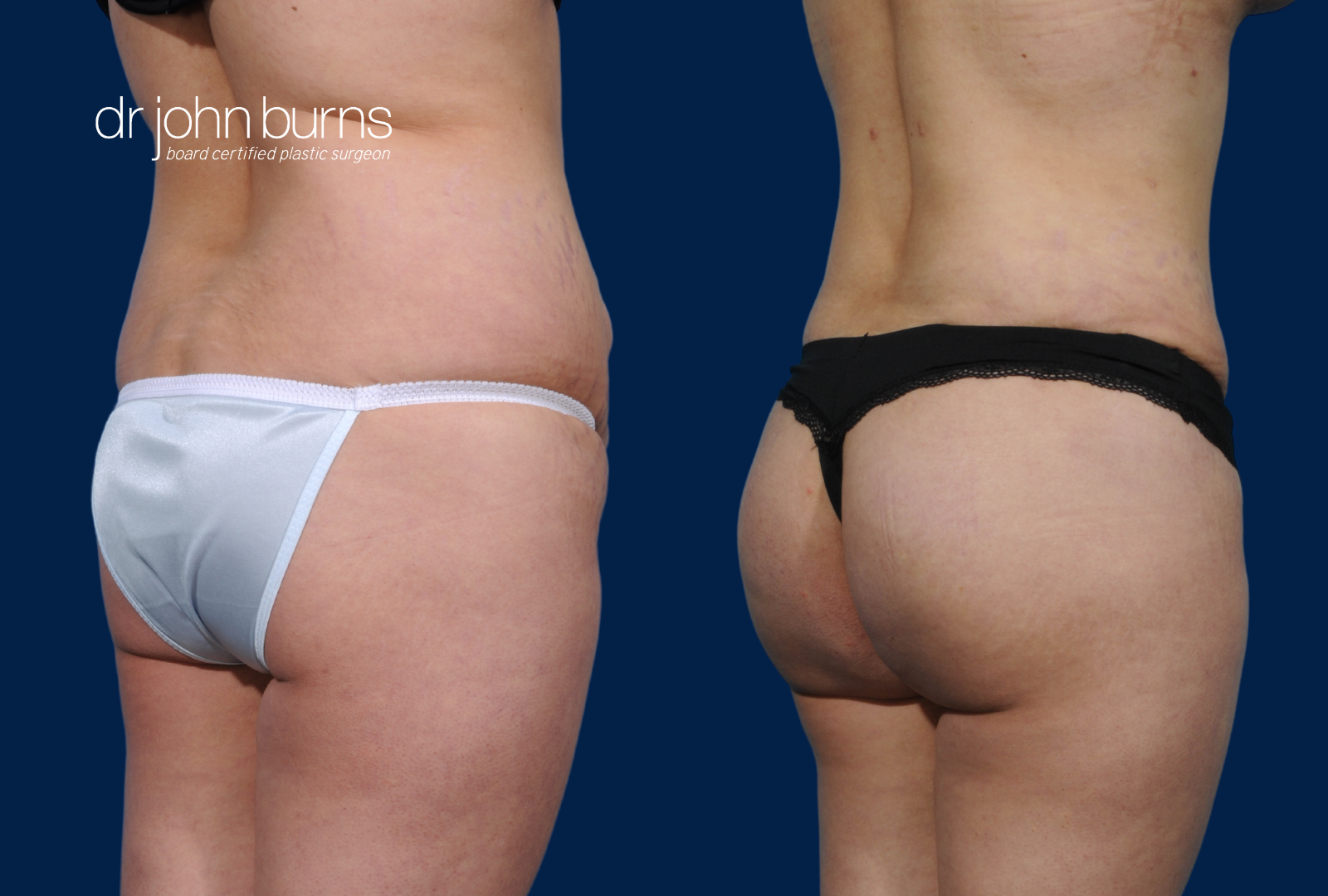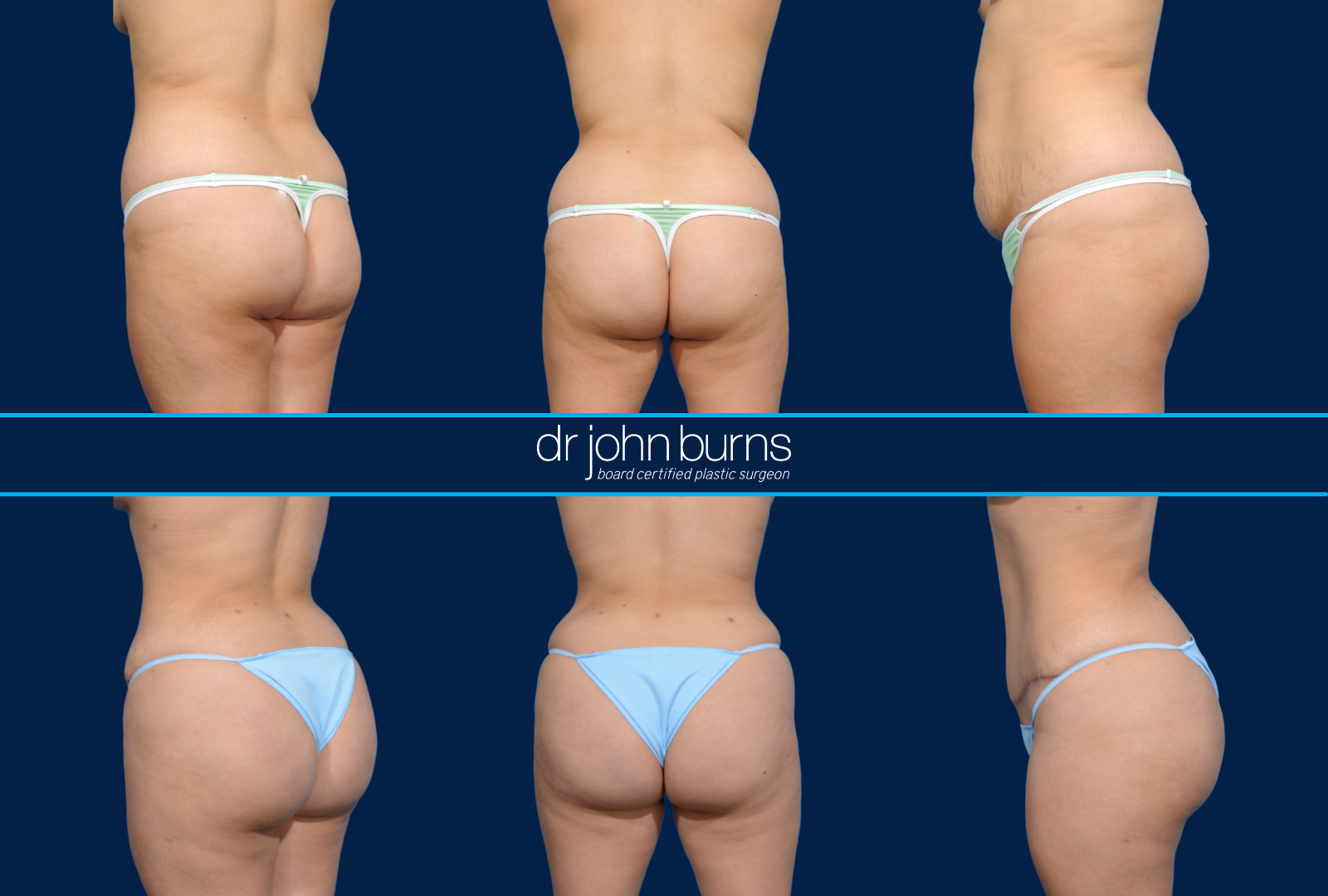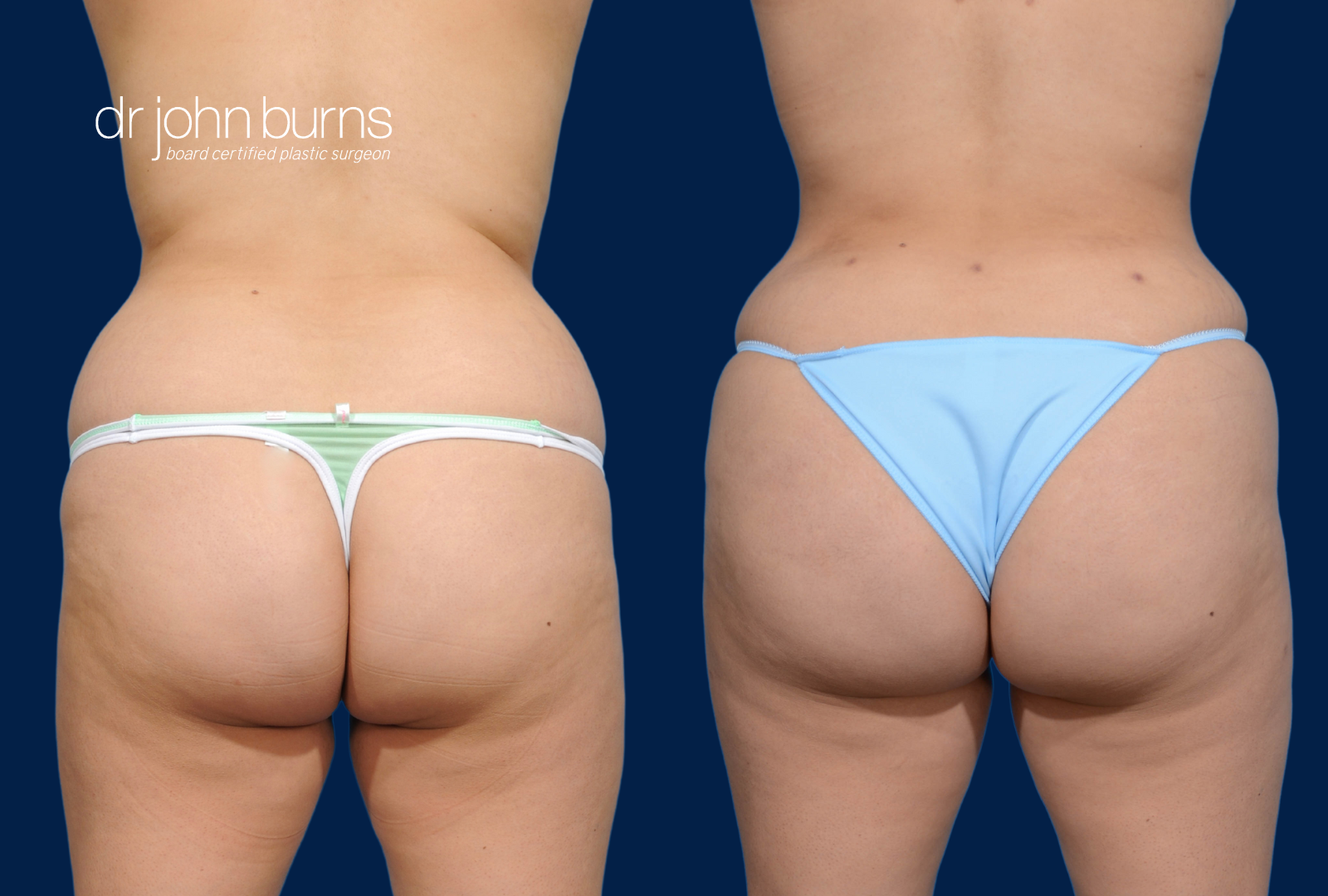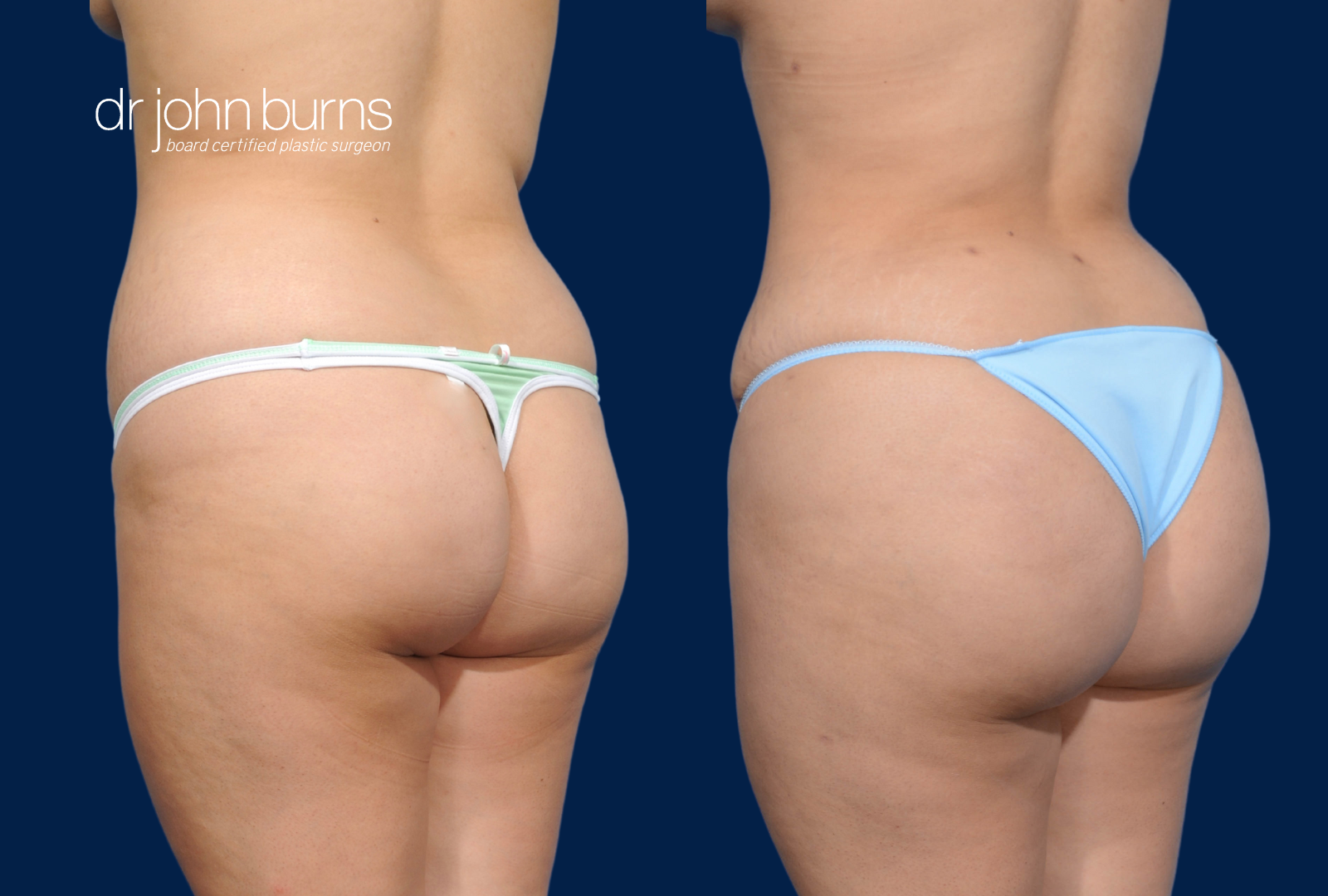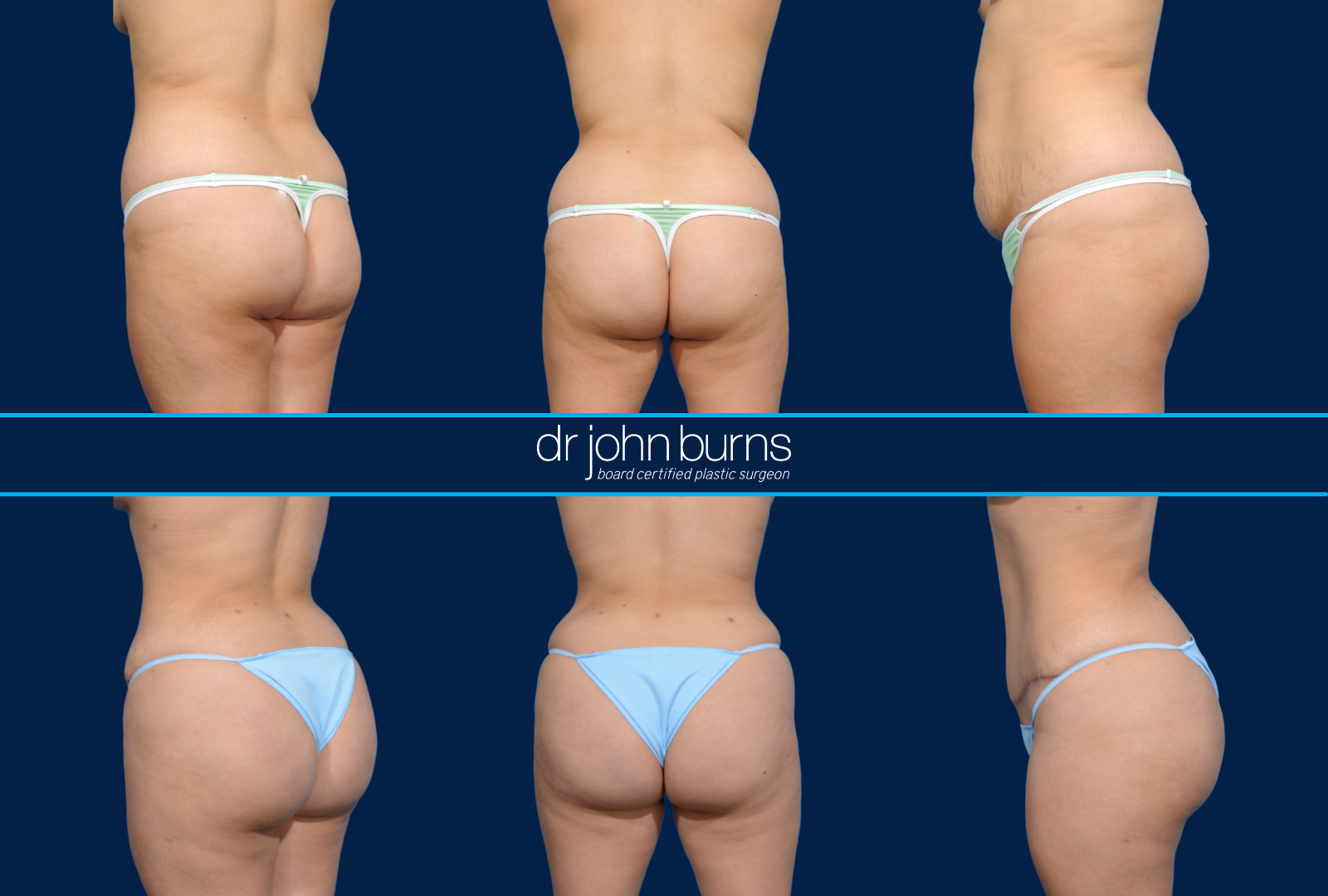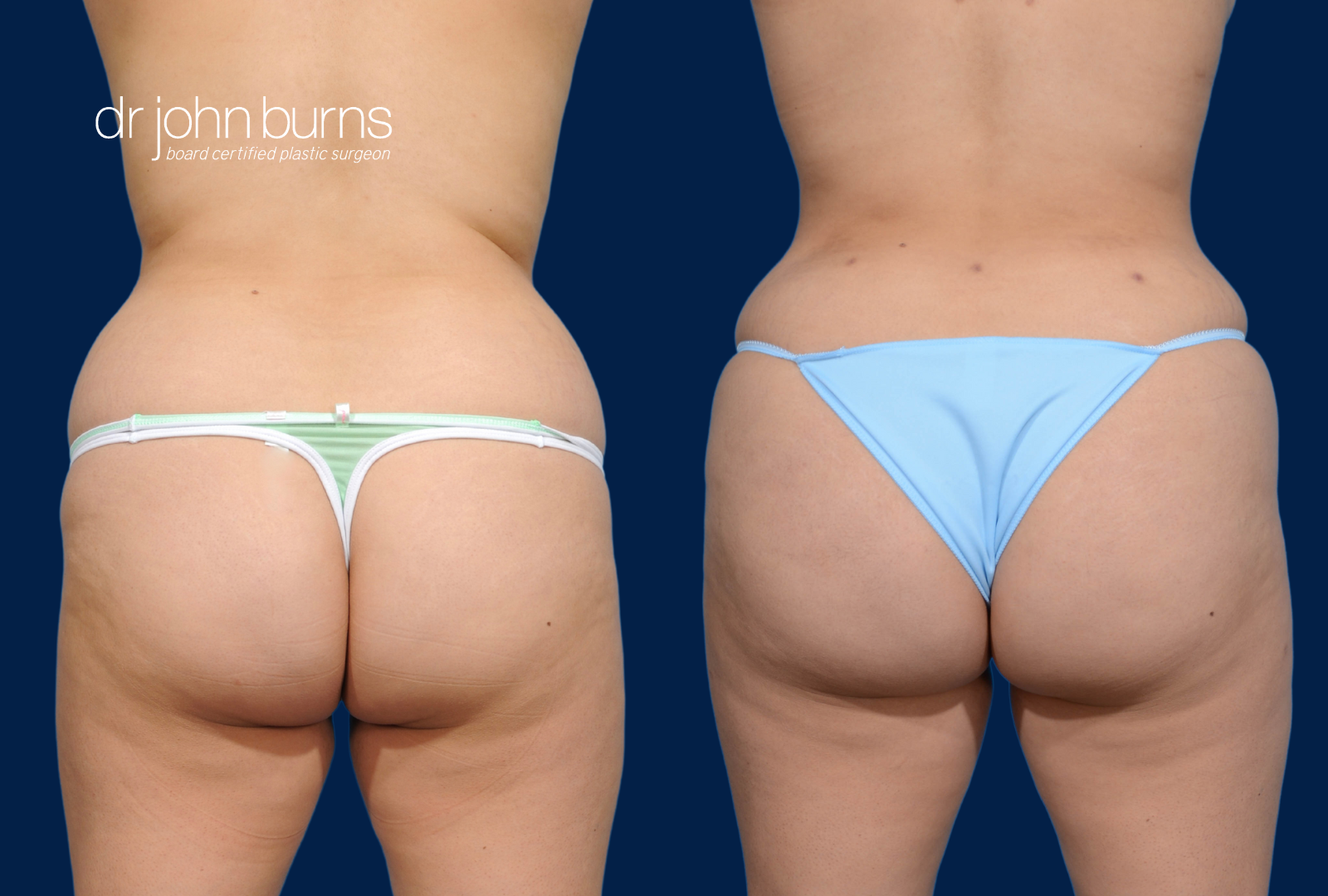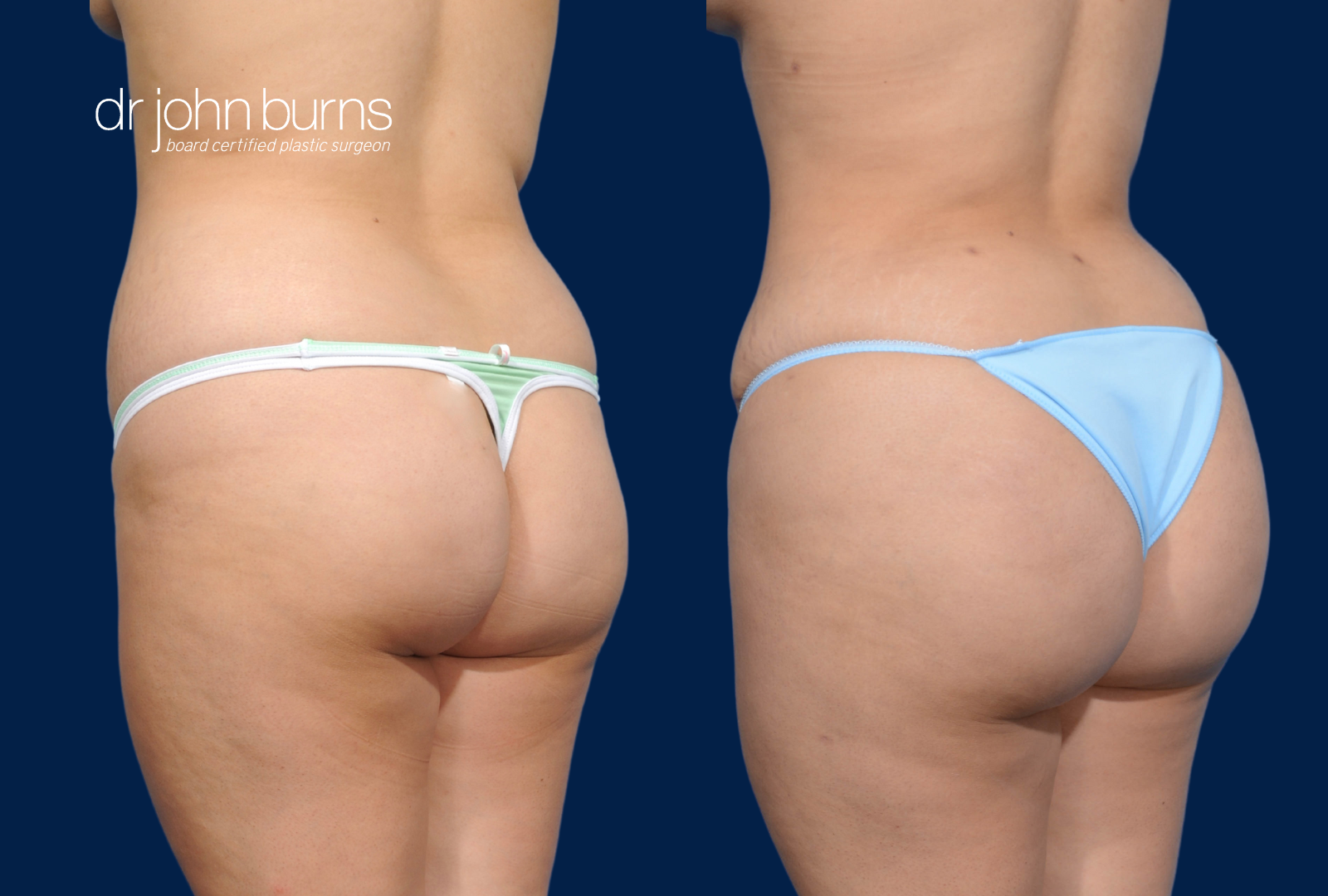 Candidates For Butt Enhancement Surgery
A Brazilian Butt Lift can help women achieve a more toned, perky bottom without having to undergo more invasive procedures like butt implants.

The best candidates for a BBL are women who want to improve their waistline and gluteal contour.

For a Brazilian buttock augmentation to be effective, patients should have fat stores in the hips, thighs, or lower abdominal region to allow for adequate harvesting and injecting. In cases where patients present with less body fat, Dr. Burns will perform a liposuction technique known as "skimming" that allows him to harvest fat from numerous areas of the body.

Candidates for BBL surgery understand that BBL will not address loose, excess skin. If you have concerns about sagging skin, we invite you to discuss your concerns with Dr. Burns in a complimentary plastic surgery consultation.

Peer-reviewed plastic surgery research indicates that the complication rates from breast and body contouring plastic surgery are much lower if your Body Mass Index (B.M.I.) is in the normal range (18.5-24.9).

For patients who are obese or morbidly obese, complication rates such as deep venous thrombosis wound healing problems, and infection are much higher. Dr. Burns encourages all of his patients to know their BMI, and if at all possible, achieve a BMI < 30 before embarking on any elective cosmetic surgery.
Additional Resources & Expectations:
Weight Management Resource Center from the NIH Free Download: Aim for a Healthy Weight Booklet
Skinny BBL
Dr. John Burns is well-known
for a very popular BBL procedure
he coined for Dallas moms
called The Skinny BBL.
Ideal candidates for The Skinny BBL are reasonably fit body types with less fat to harvest, and those who typically have a harder time building a bigger butt in the gym.

Read More on Everything You Need To Know about The Skinny BBL here
explore skinny bbl
Brazilian Butt Lifts are typically performed as an outpatient procedure, under general anesthesia. In your consultation, Dr. Burns will review your areas of concern to determine the areas that should be treated with liposuction. Generally speaking, Dr. Burns will remove fat from your abdomen, hips, thighs, and sometimes even arms and legs. The fat is put through a purification method and then injected into specific areas on your buttocks to achieve the desired look. Once injected, a certain % of fat is reabsorbed by the body. The final results of a BBL procedure are able to be viewed 4 months following the procedure.
Recovery Time For Buttock Augmentation Procedure
Pain is usually minimal, and most patients take over-the-counter pain medications such as ibuprofen or acetaminophen. Patients are able to resume normal activities, including sitting, standing, and lying on the stomach after 3-4 weeks. Discomfort is transient, lasting several weeks following the procedure. Patients are advised to sleep on their bellies, and either lie on their stomachs, kneel or walk around during daily activity. Avoid applying pressure or putting weight on the buttocks to avoid pain, soreness, and compromise the results of the procedure.
Other Considerations Before
BBL Surgery
BBL Procedure Length: 2- 4 hours (depending on the extent of the procedure and number of liposuction donor sites needed and the amount of fat needed)

Anesthesia: General

In/Outpatient: Outpatient

BBL Side Effects: Temporary swelling, bruising, some pain, and need to avoid pressure on the fat-grafted area for several weeks

BBL Risks: Pain, bleeding, risk of infection, incomplete improvement, contour irregularity, loss of fat graft (fat necrosis), and rare fat embolism

BBL Recovery: Back to work: 1 week. More strenuous activity: 2 - 3 weeks

BBL Final Appearance: 1-2 months, once swelling resolved

Duration of Results for BBL surgery: Permanent if stable weight maintained. A variable portion of the fat graft can be expected to be reabsorbed.
Schedule Brazilian Butt Lift Consultation with BBL Expert
Dr. John Burns, F.A.C.S.
Dallas BBL surgeon, Dr. John Burns is one of the leading buttock augmentation surgeons in the United States. Dr. Burns has performed thousands of Brazilian Butt Lift Surgery cases and is considered an expert in advanced techniques for BBL. Dr. Burns offers both virtual and in-office plastic surgery consultations for women seeking buttock enhancement and body contouring in Dallas, throughout the United States, and the world.
free consult
Enter your email below to receive newsletters and promotions from Dr. John Burns, FACS.