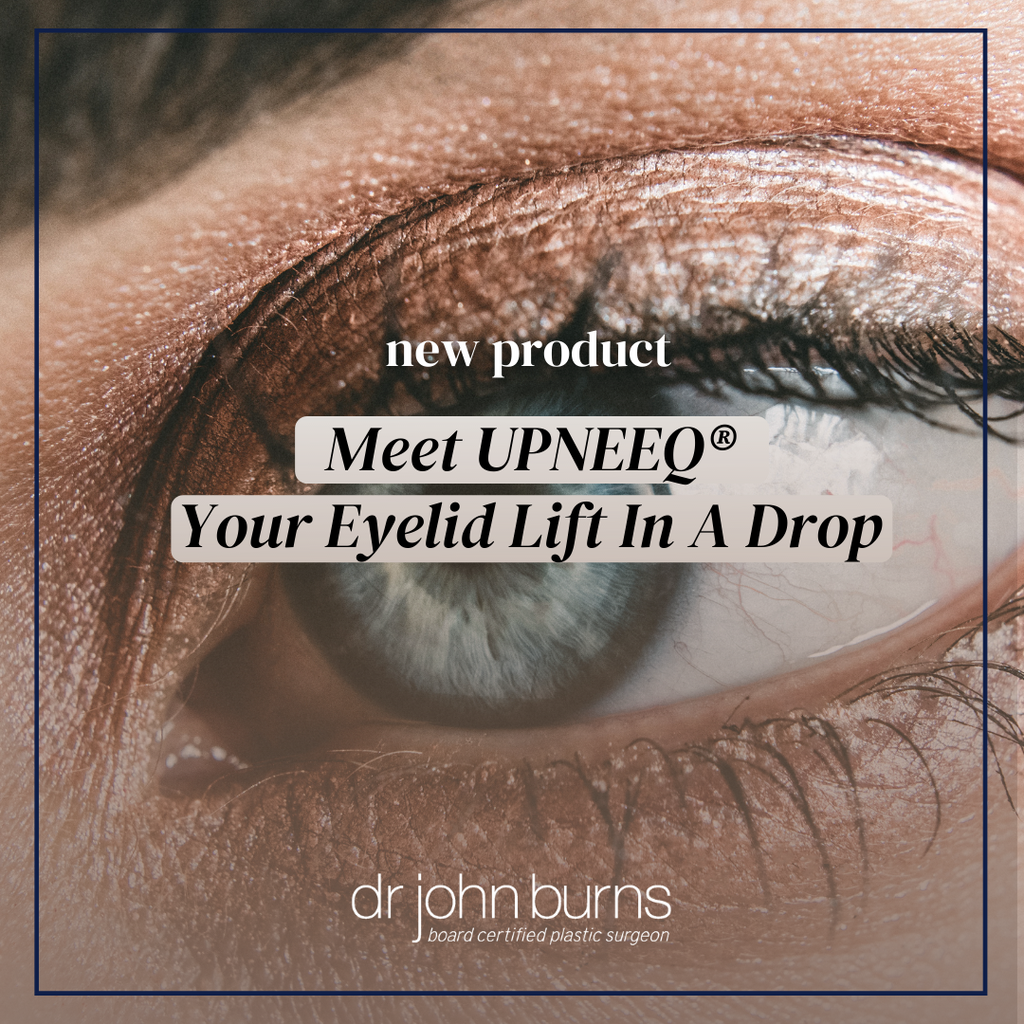 Meet UPNEEQ®: Your Eyelid Lift In A Drop
I am pleased to announce that EpiCentre Skin Care and Laser Center in Dallas, Texas is the first medical aesthetics practice in North Texas to offer UPNEEQ® (oxymetazoline hydrochloride ophthalmic solution), 0.1%. UPNEEQ® is the only FDA-approved prescription eye drop that temporarily improves low lying eyelids, known as blepharoptosis in adults, by lifting the upper eye lids to open up and rejuvenated tired-looking eyes.
Who Will Benefit From UPNEEQ® Prescription Eye Drops?
We often have patients who visit our practice with a desire to improve the appearance of droopy eyelids, known as acquired ptosis. Acquired ptosis is actually a very common medical condition that men and women of a certain age battle on a daily basis. It occurs when the upper eyelid muscles stretch and weaken over time, causing the eyelid to droop.  Mature adults with a history of cataract surgery, contact lens wearing, or certain underlying medical conditions may be more likely to have a presence of ptosis due to the excessive tugging on the eyelids.  
Acquired eyelid ptosis is classified as Mild, Moderate, and Severe, as demonstrated in the picture below. Notice the tired-looking, sleepy effect as ptosis progresses.
In addition to making your eyelids look tired and, low-lying eyelids can affect your vision. This results as the heavy upper eyelid reduces the field of vision impacting daily activities such as reading, driving, using a computer, or even looking up.
UPNEEQ® eyelid drops don't replace the need for an upper eyelid lift (upper blepharoplasty). UPNEEQ® is however, an excellent non-surgical alternative for men and women looking for improvement in the appearance of their eyelids who aren't quite yet ready for eyelid lift surgery.
Who Isn't a Candidate for UPNEEQ®?
Sometimes, droopy eyelids can be the result of another underlying or congenital issue. It's important to note, if you have congenital eyelid ptosis, UPNEEQ® will not work for you.  If you are unsure as to the cause of your droopy eyelids, I advise you visit your ophthalmologist to review your medical history and receive an eye exam to rule out any adverse medical conditions.
How does UPNEEQ® work?
UPNEEQ® stimulates Muller's muscle, commonly called the eyelid muscle, to contract and raise the upper eyelid.  UPNEEQ® eyedrops work in as little as 15 minutes and lasts all day for a bright-eyed and more youthful result.  In clinical trials, the average amount of upper eyelid lift was 1mm. 84% of patients noticed a visible improvement in lid ptosis and 74% had more than 50% improvement.  Clinical studies also support an improvement in vision.
How To Use UPNEEQ® Eye Drops
Instructions for application are: one drop a day, one drop per eye. The prescription comes in single patient-use container to ensure proper dose is administered correctly.
What are the common side effects of UPNEEQ®?
1-5% of patients who participated in the study with UPNEEQ® experienced common side effects such as redness of the eyes, dry eye, blurred vision, eye irritation, and headache.
How do I get UPNEEQ®?
UPNEEQ® in not covered by insurance and is available by prescription at EpiCentre Skin Care and Laser Center.  To make filling your prescription easier, UPNEEQ® is also available as a prescription through RVL pharmacy and is delivered directly to you, bypassing the need to go to the pharmacy.
Dr. John L. Burns Jr. MD, FACS is board-certified by the American Board of Plastic Surgery and President of the Dallas Plastic Surgery Institute, one of the largest plastic surgery group practices in the United States. Dr. Burns also serves as Medical Director the the EpiCentre Skin Care and Laser Center, Dallas' Premier Medical Spa.  Dr. Burns dedicates his practice to aesthetic or cosmetic plastic surgery. Call (214) 515-0002 or email Info@DrJohnBurns.com to schedule a complimentary consult with Dr. Burns.