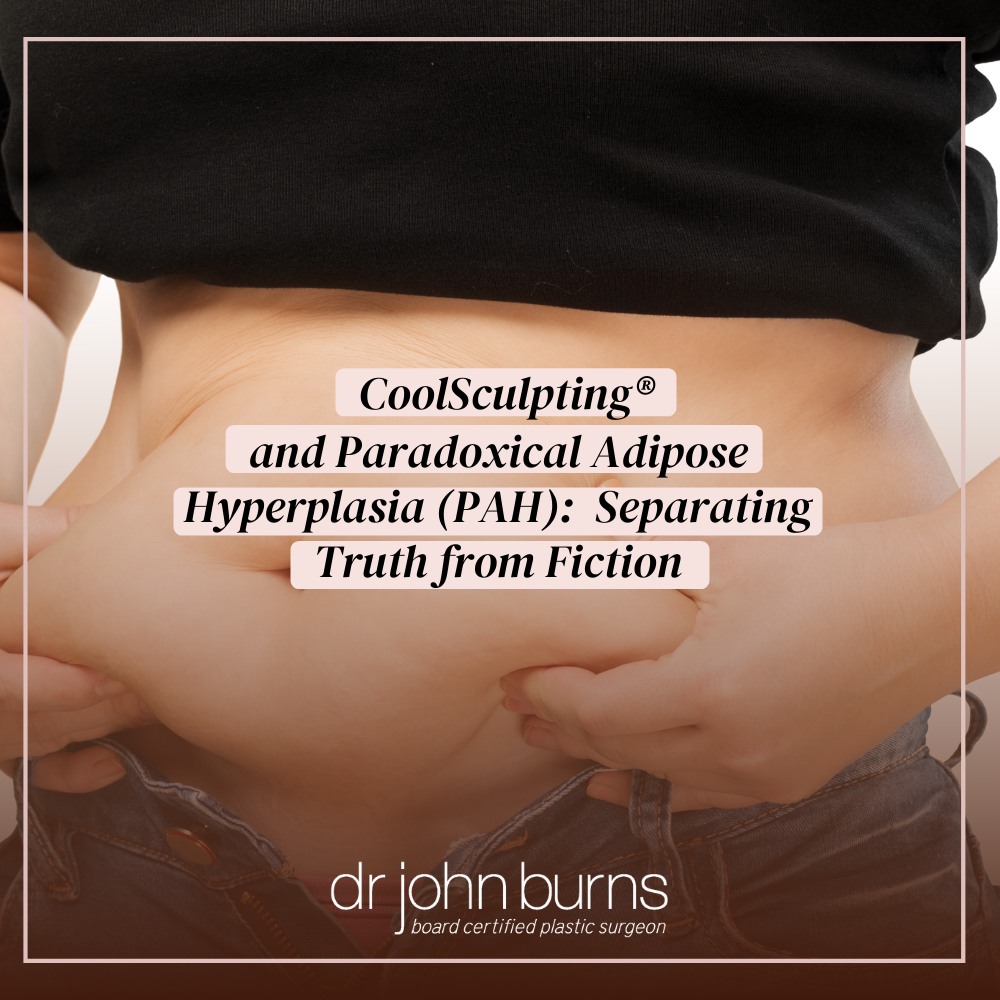 Part of being an educated consumer in plastic surgery is understanding and evaluating the potential risks and complications of any procedure, no matter how insignificant it might seem.  In today's world, clever and often deceptive marketing on social media and the internet make discerning possible risks and benefits of any procedure very difficult for even the most sophisticated of patients.
In the case of cyrolypolysis or CoolSculpting® body contouring procedure, a rare but significant complication is known as Paradoxical Adipose Hyperplasia (PAH). 
A recent cosmetic case featuring supermodel Linda Evangelista highlights this rare but disfiguring complication.  CoolSculpting® is a non-invasive cosmetic procedure that works by freezing fat below the skin, causing fat reduction in areas like the abdomen, hips, thighs and even the chin.  CoolSculpting® has become widely popular for those who have stubborn pockets of unwanted fat and desire a non-surgical alternative to liposuction procedures. For most cases, this procedure is easily done in about an hour with minimal pain and downtime.
The Supermodel's Fat Freezing Experience
In the case of Linda Evangelista, the area(s) treated produced the opposite effect and her existing fat cells stimulated an increase in fat deposits, rather than the desired reduction.  In addition, the treated areas became abnormally hard and were resistant to attempts at treatment with liposuction.  
The actual incidence of PAH is variable.  The manufacturer of CoolSculpting® reports a case of PAH in approximately 1 in 4,000 treatment cycles.  However, a recent report from Plastic and Reconstructive Surgery Journal reports 1 in 138.  Many doctors and plastic surgeons alike are also skeptical about the data due to underreporting by treating providers.  
Treating PAH is difficult and often only partially successful due to hardening and difficulty in removing the stimulated fat cells.  This usually involves body liposuction using ultrasound-assisted (VASER®) or laser-assisted (SmartLipo®) devices. In extreme cases of PAH, board-certified plastic surgeons can surgically remove excess tissue in places like the abdomen in a tummy tuck procedure.  
Always Know the Risks and Be Informed
The take home message with a fat reduction procedure like CoolSculpting® and any cosmetic procedure, no matter how mild the treatment may seem, carry risks and possible complications. For those considering corrective procedures like CoolSculpting®, understanding both the risks and benefits is important.  With plastic surgery, choosing a board certified plastic surgery with years of experience and specialty in a particular procedure can reduce these risks. And, with noninvasive cosmetic procedures like CoolSculpting®, choosing an established medical aesthetics practice that is directed by physicians who are well-versed in managing possible complications is critical.