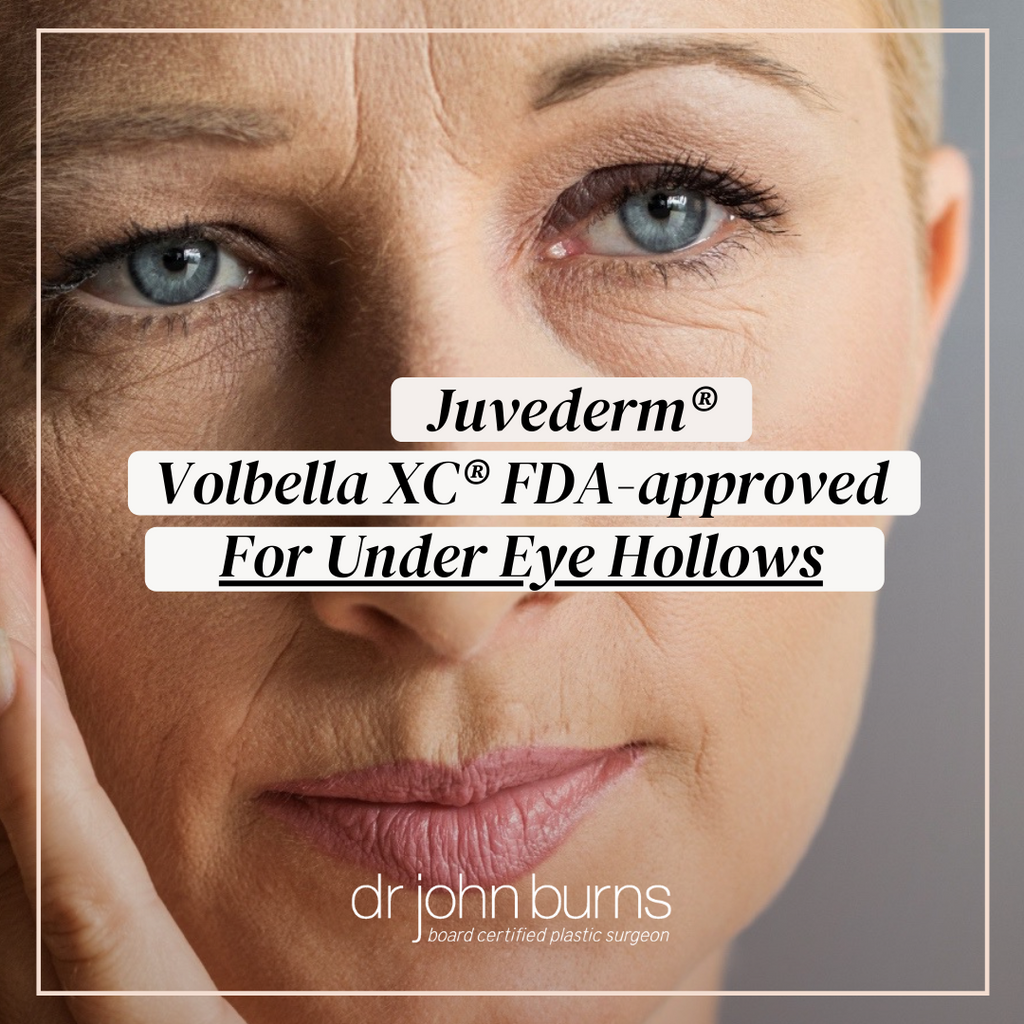 Juvederm® Volbella XC® by Allergan Aesthetics is now FDA-approved for use in correcting under eye hollows. The FDA deems Volbella to be both safe and effective in treating this delicate area that is a top concern among women and men alike. Clinical trial data revealed 90 percent of subjects reported satisfaction through one year after treatment with Volbella XC®.
We all know that the eyes are one of the first places to show advanced signs of aging, and up until now, plastic surgeons had limited options to offer patients outside of surgery. 
As we age, we lose collagen at the area of the lower eyelid and crow's feet. A visible "hollowed appearance" transition between the lower eyelid and cheek becomes also becomes more prominent.  Patients will often exhibit signs of bulging fat that accumulates in the eye trough area (known as orbital fat prolapse, or "eye bags"). And to top it off, shadowing occurs, partially due to the brow area and heavy upper eyelids coupled with sluggish blood flow can make volume loss under the eyes even more noticeable.
While cosmetic surgery procedures like C02 lasers and eyelid surgery (blepharoplasty) remains the gold standard for correcting aging eyelids, many younger patients  want to improve the appearance of under eye hollows with less invasive means, such as a facial filler. 
Injecting Juvederm® Volbella XC® dermal filler In the under eye hollow
In the lower eyelid, filler can be used to blunt or camouflage the lower eyelid/cheek transition and to fill the tear-trough deformity. Dermal filler is administered by a board-certified plastic surgeon in a brief office visit, and results last 12 to 18 months in most cases.
The choice of filler is paramount in achieving optimal results. The lower eyelid skin is some of the thinnest in the entire body making this a very delicate area to inject. Choosing the incorrect dermal filler can result in producing lumps, unnatural puffiness, and ridge-lines along the lower eye area.
Juvederm® Volbella XC® is an ideal and effective treatment option for improving the appearance of the lower eyelid hollows for or several reasons:
Volbella XC® is among the Juvederm family of hyaluronic acid fillers, one of the most popular and widely used portfolio of dermal fillers.  Hyaluronic Acid fillers are reversible meaning that an enzyme can be injected to dissolve the filler if reversal is wanted.
Volbella XC® is very fine and has the least viscosity of Juvederm's portfolio of products. The lower eyelid skin is very thin and requires a very fine, soft, and pliable filler.
Volbella XC® is the finest of Juvederm's Vy-Cross fillers:  Voluma, Vollure, and Volbella. The Vy-Cross filler line is less hydrophilic meaning that it absorbs less water.  This is important so as not to make the lower eyelids look bloated, puffy or "overdone". 
Vy-Cross fillers also reflect light to a lesser extent then older Hyla-cross fillers like Juvederm or Restylane.  Reflecting light can lead to a Tindel effect where light reflects off the filler giving a bluish discoloration to the eyelid.
Injecting the lower eyelid can result is significant bruising.  For this reason, I treat patients using a micro cannula technique where a blunt tip microcannula is used rather than a short needle.  This technique dramatically reduces bruising and recovery.
Volbella is priced by the syringe which comes in a 1.0cc aliquot.  In most cases, 1 syringe is necessary to achieve the desire result.
Dr. John L. Burns Jr. MD, FACS is board-certified by the American Board of Plastic Surgery and President of the Dallas Plastic Surgery Institute, one of the largest plastic surgery group practices in the United States. Dr. Burns also serves as Medical Director the the EpiCentre Skin Care and Laser Center, Dallas' Premier Medical Spa.  Dr. Burns dedicates his practice to aesthetic or cosmetic plastic surgery. Call (214) 515-0002 or email Info@DrJohnBurns.com to schedule a complimentary consult with Dr. Burns.