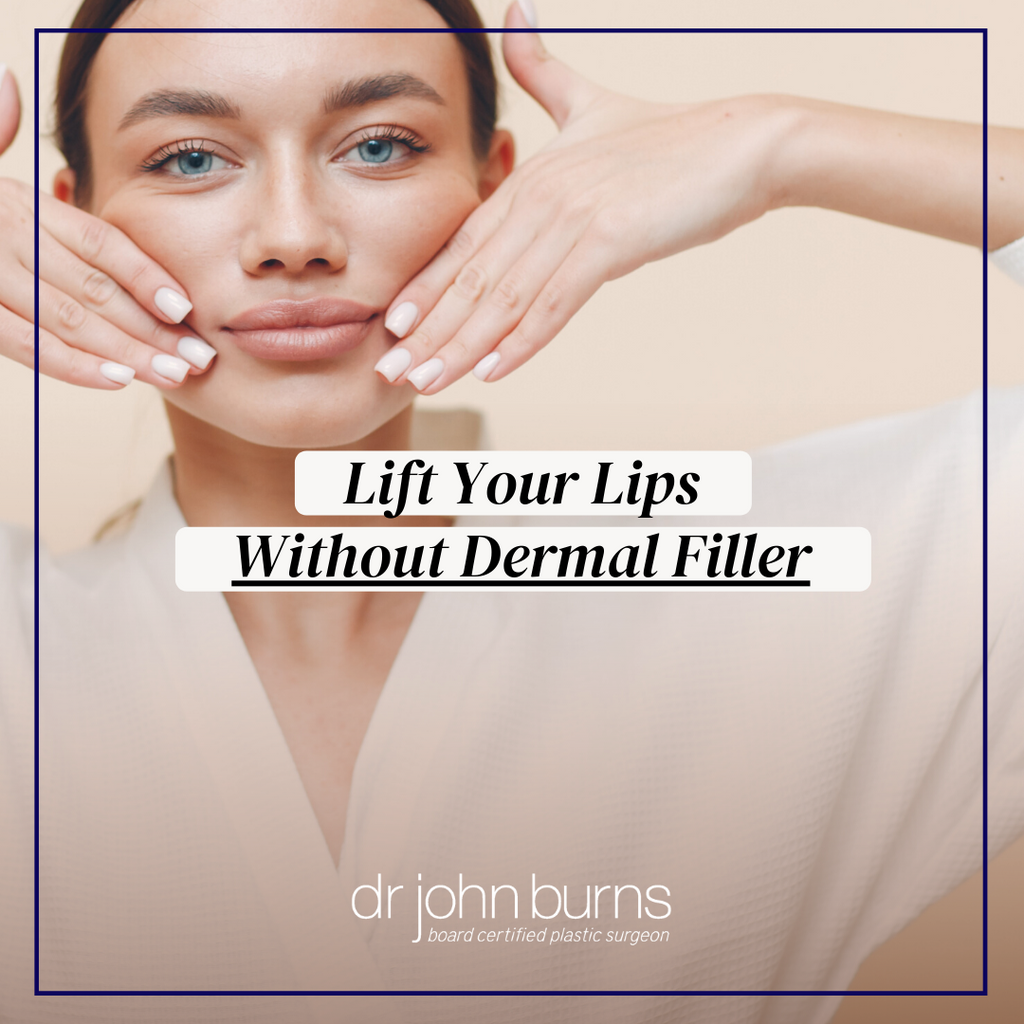 Full lips are a sign of youth and vitality. Lip fillers and botox have long been hailed as the go-to method for rejuvenating the lips, and rightfully so. Plastic surgeons often use dermal fillers to restore volume, correct lip asymmetries, define the lip line, and many other reasons.  Lately though, with all this focus on attaining lip perfection, patients are becoming increasingly more aware of the overall structure and shape of their lips. And not everyone wants to use fillers to get the look they want. 
Lip Characteristics
A youthful lip has a projected and defined cupid's bow that elevates the lip exposing the natural volume at the center of the upper lip. The lip corners are slightly upturned, not receding into the mouth, and the vermillion border is well-defined (thus the absence of lip wrinkling and "smoker's lines").
Normally, when lips are at rest, there should be 1-2 mm of the central teeth showing.  As we age, the skin at the upper lip (from the nose to the lip line) becomes longer, hiding the central upper teeth (central incisors), and causing the upper lip to roll inward (into the mouth) and appear thinner. The aging lip causes the face to look older 
How To Tell If You're A Candidate for A Lip Lift
Take a look at your upper lip area and check aging in photos through the years. If you're noticing an increase in the size of the space between your nose and upper lip, it's likely time for a professional assessment by a board-certified plastic surgeon.
In your cosmetic consult, Dr. Burns will evaluate your dynamic oral expression for changes in your upper lip's appearance. As a rule of thumb, when your top row of teeth aren't visible and your upper lip is thin in appearance, you qualify for lip lift surgery.
What Is A Lip Lift? 
An upper lip lift is designed to remove a small amount of skin from the upper lip to "lift" the lip, gently rolling the lip outward to give a fuller appearance.  The incision for this surgical procedure is carefully designed to be hidden in the nasal creases, just inside the nostrils, and at the base of the columella.  It is critical that your plastic surgeon does not remove too much skin, as an overly shortened lip will appear abnormal and cause problems with closing the mouth.  For this reason, lip lifts generally only remove a couple of millimeters of skin.

Lip Lift + Lip Injection
A lip lift procedure can be combined with a lip augmentation with injectable fillers. Soft FDA-approved hyaluronic acid fillers like Juvederm, Volbella, Vollure, or Restylane Kysse, all designed with different purposes in mind, work well to sculpt beautiful lips.  
Another option for restoring volume to the lips involves using your own fat (autologous fat) that adds more volume than dermal fillers and lasts longer.  In this procedure, fat is harvested from the inner thigh or lower abdomen with liposuction. Once the fat is purified it is re-injected for natural and lasting lip volume.  
Click here to learn more about the perfect lip ratio.
Talk To A Board-Certified Plastic Surgeon
When trying to decide if a surgical lip lift, dermal fillers, or a combo of the two is right for you, be sure to visit with a board-certified plastic surgeon. Your surgeon will review the procedure, recovery, and cost for the procedure best suited to give you natural and more youthful lips.
Dallas plastic surgeon Dr. John Burns, is President of the prestigious Dallas Plastic Surgery Institute and a nationally-recognized expert in facial rejuvenation, welcomes the opportunity to discuss lip lift and other cosmetic goals with you.  To make an appointment, simply call his office at 214-515-0002, or send an email through his website.  Online consultations are also available.  Dr. Burns and his staff look forward to meeting you!