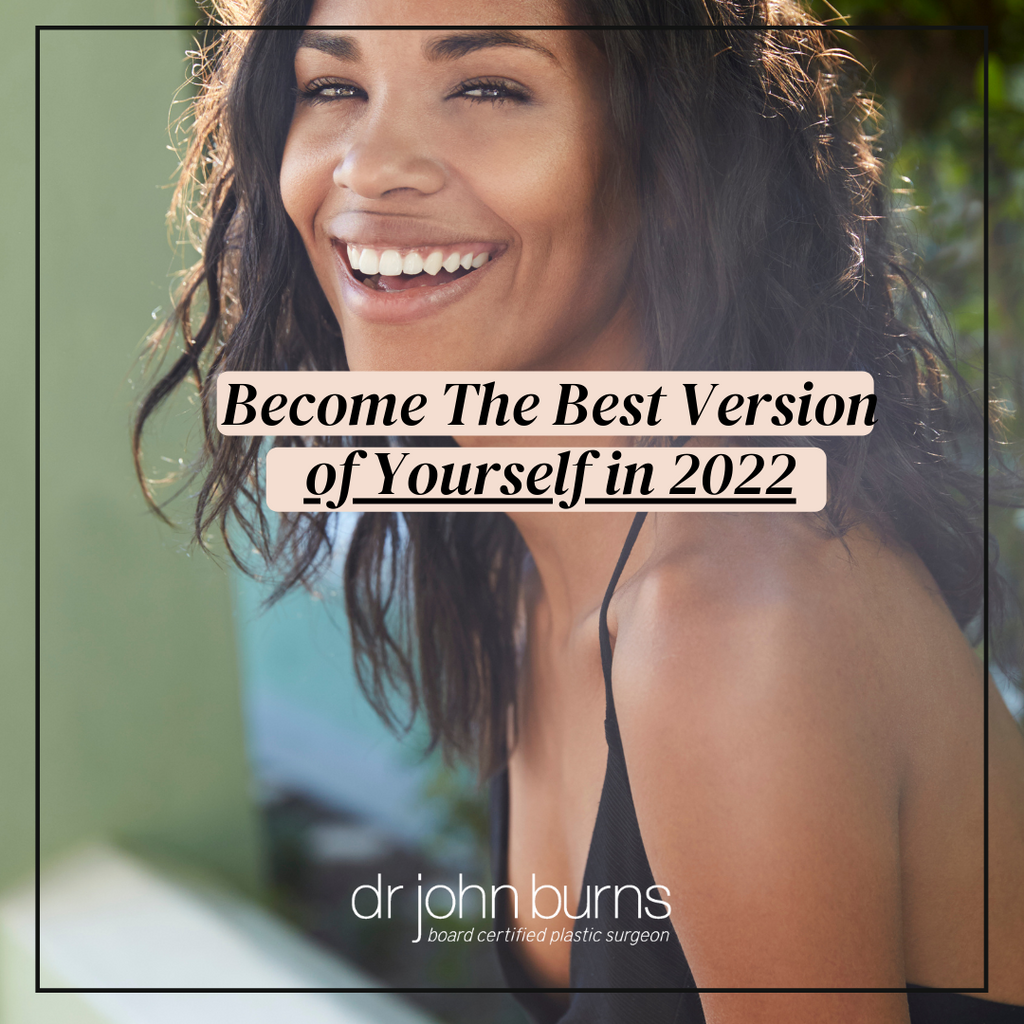 Here's To A Happy New You in 2022!
With each passing new year, millions of people are thinking about the changes they want to make to their lives and their appearance. If you're hitting the gym, or have started a new diet plan to get in shape for 2022, you've probably heard that plastic surgery can help you reach those goals too. You don't have to look hard to see the positive effects that having plastic surgery has on self-esteem and confidence. When we look our best we tend to have a more positive self-image, perform better at work, and thrive socially. 
Redefining self-care this new year
At the beginning of every new year, we meet new patients who have just hit a weight loss goal, or who've made the decision to close a chapter of life like having kids. We also consult with many women and men who have an upcoming milestone birthday and are ready to look into rejuvenating cosmetic procedures. No matter the reason, self-care is essential and plastic surgery, along with other methods like exercising and mental health checks, is being normalized as a way to live a more positive and vibrant life. 
We're not here to tell you that you should get plastic surgery instead of making a promise to love yourself more or have a healthy body image. We advocate self-care and self-confidence for our patients because we consistently see that self-care leads to a healthier mindset and overall better living. After time and trying, many women and men turn to us after discovering that they aren't able to fully achieve their new years' goals with diet and exercise alone. It's why we typically see another spike in these types of plastic "self-care" surgeries and cosmetic procedures from January to March.
But, what are some of the ways your plastic surgeon can help you achieve your self-care resolutions? We're detailing several surgical and nonsurgical ways you can treat yourself and improve your appearance this new year.
Goal #1: Restore Youth and Vibrance to Your Face
Facial rejuvenation isn't just about looking younger; it's also meant to improve your appearance, boost confidence, and give you a refreshed outlook on life. Facelift surgery is one of the most requested cosmetic procedures by women and men alike, especially at the new year, when people want to look their best for upcoming events like weddings, graduations, and vacations. This surgical technique tightens facial muscles, lifts sagging skin, removes wrinkles, and reduces jowls, revealing more youthful expression. "We can't stop the aging process, but we can certainly roll back the clock with procedures like a facelift or blepharoplasty, " says Dr. John Burns. "Tired eyes and jowling are two top complaints I hear from both men and women who have become discouraged by their looks, and botox and fillers don't always give enough lift in these cases," adds Dr. Burns. 
Visit our website to view Facelift photos by Dr. John Burns.
Some might be ready for a facelift, but for others, self-care starts with adding Botox® and dermal fillers to their beauty maintenance routine. "Depending on the patient's goals and the condition of their skin, I'll either recommend surgical intervention or non-surgical options procedures like Moxi® non-ablative laser or BBL Hero® available at EpiCentre Skincare and Laser Center to restore vitality to their appearance." 
Goal #2: Get Body-Confident
Whether it's adding curves or removing extra skin, January is an extremely popular time for body contouring procedures because most women desire to be healed in plenty of time for Valentine's Day and Spring Break travel. Breast augmentation is a popular procedure that helps women feel more feminine and comfortable in their skin while correcting concerns like breast sag and volume loss after breastfeeding. Women also love the look having breast implants gives because it adds elegant, natural proportions to body contours while increasing overall breast size.
Tummy tucks and high-definition liposuction contour and slim stubborn pockets of fat and extra skin in ways that lifting weights and cardio exercise can't. They're also two excellent cosmetic procedures that are a huge payoff for women who've worked very hard to get as far as they can on their own with weight loss. Moms especially love the convenience of having these cosmetic procedures at the beginning of the new year because it's easier to coordinate extra help at home while recovering.
For men and women who just want to tone certain areas, Dallas EpiCentre offers procedures like Coolsculpting® for fat reduction and EVOLVE Tite, Trim, and Tone to improve the appearance of cellulite while toning muscles on the arms, abs, legs, and buttocks.
To learn more about body contouring procedures, visit Dallas EpiCentre.​
Goal #3: Take Care Of Your Skin
With each passing new year, thousands of people are thinking about how they want to change their lives and their appearance, and one of the most popular trends for 2022 is skincare. You may already know how important it is to take care of your skin, but how about preventing skin aging before you see it? From anti-aging treatments to laser resurfacing, EpiCentre offers cutting-edge solutions for nonsurgical facial rejuvenation. Some of their most popular treatments year-round include facial fillers, such as Restylane® or Juvéderm®, Botox ® injections, and skin resurfacing treatments like chemical peels and laser treatments.
A Better You in 2022
Self-care and cosmetic procedures easily go hand in hand. For some, setting goals to "be a better you" might mean a visit to our practice or medspa. For others, it could mean resolving to eat better, starting yoga, or working with a life coach. The point is to feel better, look better, and continue with a positive lifestyle! Here's to a happy new YOU in 2022!
Please follow this link to visit our website or schedule your complimentary consultation with Dr. John Burns.