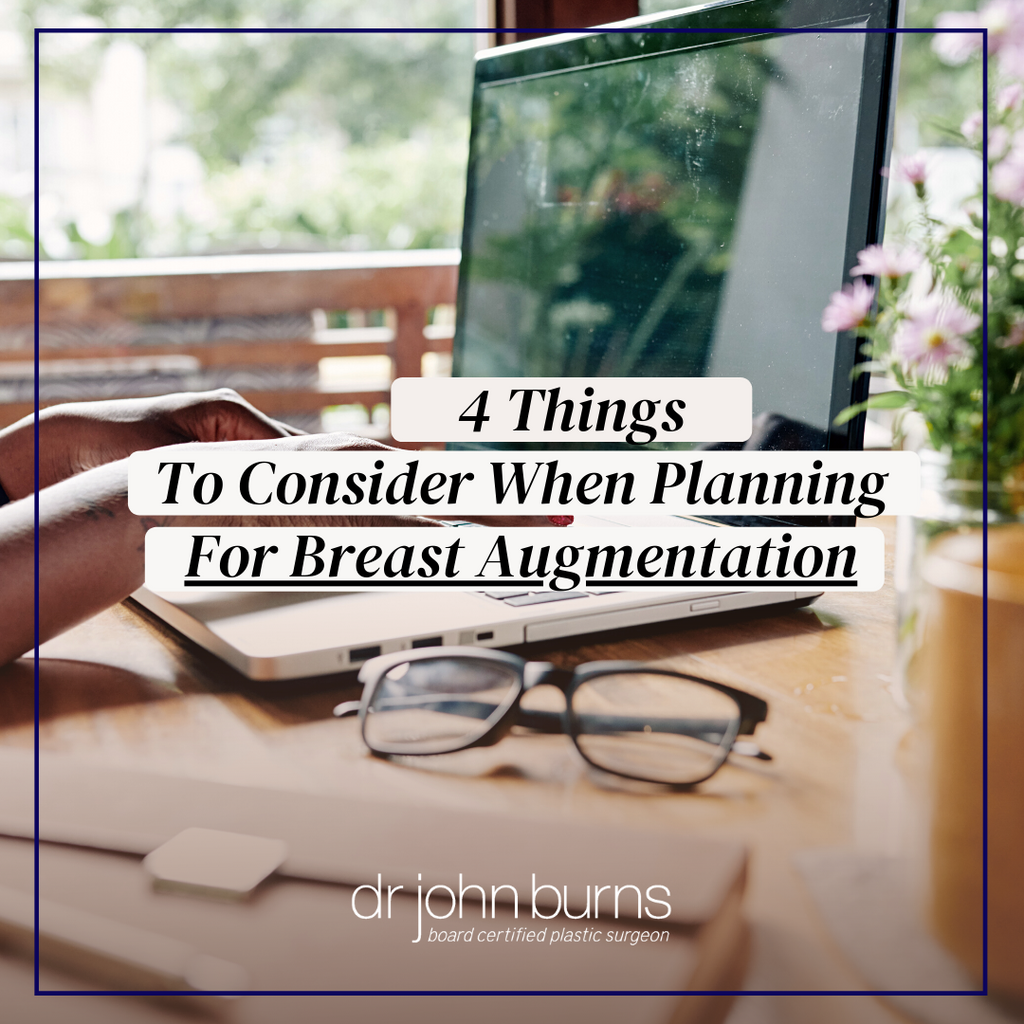 It's no question that breast augmentation is one of many excellent options for women to enhance their appearance. Many women choose this procedure because it gives them more confidence and self-esteem. It's always important to go into your breast augmentation consultation having done the research so that you can ask relevant questions around your unique goals. Your board-certified plastic surgeon will help guide you through the process.
Dr. John Burns is a top plastic surgeon who specializes in cosmetic procedures of the face, breasts, and body. Breast augmentation is one of the most requested surgeries in his practice. Dr. Burns has performed thousands of breast augmentation surgeries for women in Dallas and around the world for over two decades.  He says, "I always begin my consults by listening to what the patient wants so that together, we can develop a roadmap to get there. After that, we'll review additional details about the surgery so that the patient is fully educated and ready to plan for their procedure.
Dr. Burns has detailed some of the topics you'll review together in your breast augmentation consult so that you are well-prepared for your surgical procedure and can fully maximize your time together.
Not all breast implants are the same
Breast augmentation is not a one-size-fits-all procedure. Just as no women are the same, reasons and goals for getting breast implants are as equally unique. Once we hone in on your vision and what's possible with your anatomy, we will review the different types of implants as well as the differences between silicone, saline and structured saline breast implants. While silicone gel breast implants continue to be the most popular option on the market today, there are pros and cons for all types of breast implants that should be carefully reviewed. It's important that you have a comfort level with the type of implant you select before we move on to discussing implant size and other details.
To learn more about the differences between silicone gel and saline breast implants, click here.
Why Your Breast Measurements Matter 
Some women are looking for breast augmentation simply to increase their breast size, while others desire to restore volume, correct asymmetry or lift deflated breast tissue. No matter the goal, your breast measurements will serve as the starting point for selecting the right implant that will support the width, height and volume needed to give you the look you want. Breast measurements also help Dr. Burns decide if you are best suited for a breast augmentation or a breast lift with implants. Dr. Burns says, "Accurate measurement of the base diameter is a reliable and sure way of finding the perfect implant size" and to keep from having implants that don't fit your chest and body frame correctly. 
Surgical Incision Placement For Hiding Implant Scars
Not only will be reviewing whether or not your implants will go over or under your chest muscles, but we'll also be discussing the different surgical sites where scars can be hidden on your breast skin. It's important to note that in some cases, placement of the scar can also affect breast shape long term. The goal is to choose an incision that is least visible and permits the best access for precise implant placement so your final outcome is beautiful.
Make Breast Augmentation Recovery a Priority
Your breast augmentation surgery will take about an hour for Dr. Burns to perform, but keep in mind it's still major surgery. Patients should have a caregiver bring them and take them home after surgery. You can expect to rest after surgery and avoid strenuous activity. Dr. Burns's rapid recovery protocol helps healthy patients ease back into their normal routines more quickly, but if you have little ones at home, you should definitely plan to have help on hand for a few days following breast implant surgery. It's also critical to keep your post-surgical follow-ups with our team and communicate any concerns along your healing journey so you're positioned for success.
As your healing continues your final results will take time to emerge. Your breast appearance will change significantly as swelling subsides and your breast implants "drop and fluff" into their final position within the implant pocket. Knowing exactly what to plan for the best possible outcome from start to finish will help you confidently look forward to your new look. 
To schedule your complimentary plastic surgery consultation with Dr. Burns, click here.