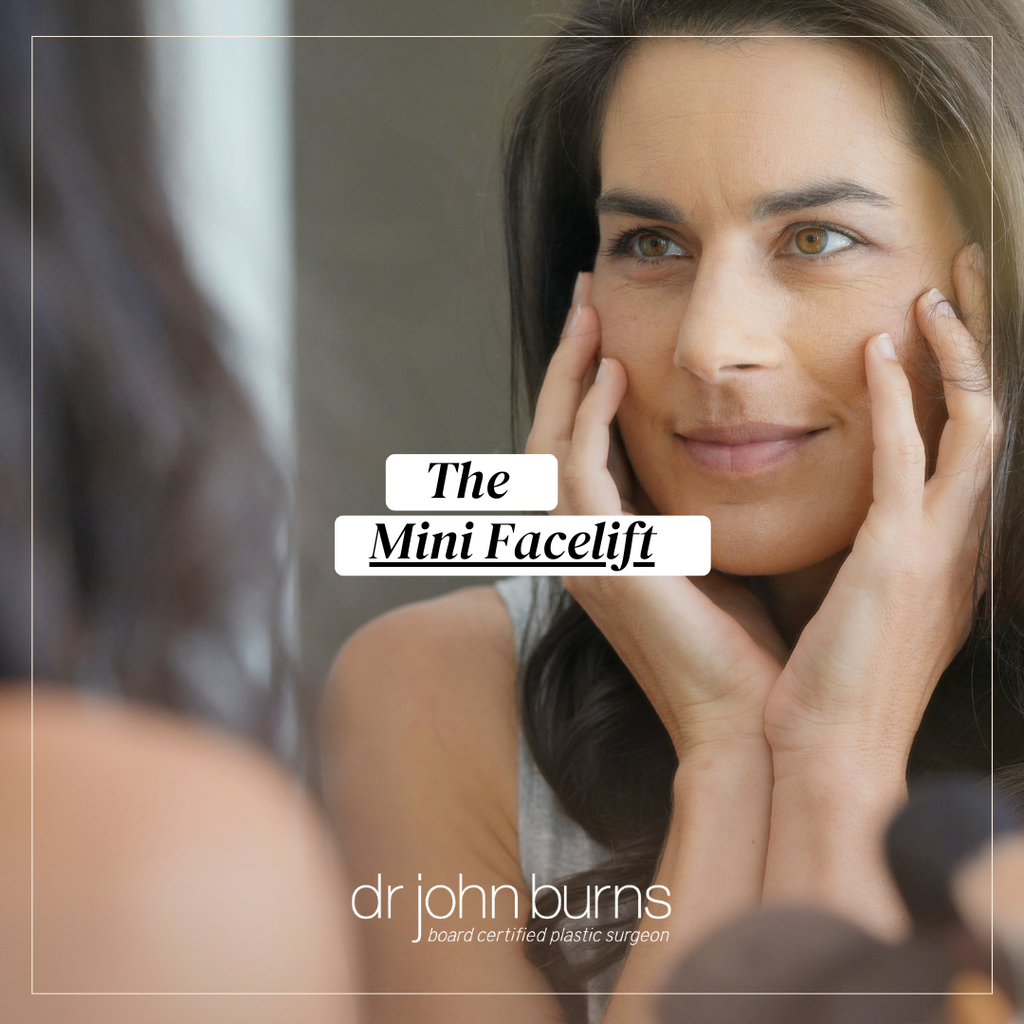 Some of a woman's most vulnerable moments happen in front of the mirror each day with the daily application of skincare and makeup. Facial aging starts subtly, and it's as though we blink and we're seeing wrinkles and jowls we never noticed before.  In fact, if you're reading this, you've probably done the pull test in the mirror at some point. You know the one-  the slight pull to evaluate the changes you'll see if you had "just a little lift" at your cheeks and jowls. 
In this blog, I'm talking about a popular cosmetic procedure that creates a more youthful appearance for women in their late 40s to 50s: the mini lift. But before I can do that, I need to provide you with some education on aging in the face.
3 Types of Facial Aging in Women
Facial aging occurs in 3 distinct ways: environmental, dynamic, and gravitational.
Environmental aging is a result of the effect of one's environment (sun, smoking, diet, etc) on the skin and superficial soft tissue. Signs of environmental skin aging manifest as skin discoloration, lack of skin clarity, dull skin tone, enlarged pore size, and fine lines and wrinkles.
Dynamic aging occurs as dynamic muscles (think smiling, scowling, raising eyebrows, puckering, frowning) associated with your facial expressions produce marked lines and skin wrinkling. Botox® Cosmetic and other neuromodulators work to soften the appearance of dynamic expression lines and wrinkles on the face and neck.
Gravitational aging causes skin sagging. You'll notice these signs of aging as loose skin at the brow, eyelids, drooping cheeks, well-defined smile lines, marionette lines and jowls, diminishing jawline definition, and general volume loss. Gravitational aging at the neck looks like excess skin and loosening of the vertical platysmal bands (the muscles extending from the collarbone to the jawline). Signs of gravitational aging are usually the last manifest in the face and neck and can be the most challenging to correct without surgery.
5 signs you might be ready for a facelift
Facial Plastic Surgery Versus Nonsurgical Treatments
Early gravitational aging in the 30s, 40s, and 50s, often responds to nonsurgical procedures such as facial dermal fillers or energy devices like Ulthera®, Thermage®, or radiofrequency (RF) devices like FaceTite®. However, these modalities are generally very limited and have short-term results, and patients often complain of "laser fatigue".
For patients desiring long-term results and value, plastic surgery and facial rejuvenation procedures specifically, continues to be the gold standard for gravitational aging in the face. As every person is unique, every plastic surgery procedure is highly customized to produce the best results for the patient. And like anything, surgery can be more or less involved or invasive.
In a brow lift procedure, plastic surgeons can use longer, "ear to ear" incisions, or less conspicuous endoscopic techniques that minimize scar visibility. In a Facelift, the length of the incision, amount of subcutaneous undermining or dissection, and the need for a separate neck incision can be varied. Shorter scar and less invasive techniques are useful for patients in their 30s to early 50s with mild or moderate gravitational aging.
Unlike SMAS facelift which impacts the deeper layers of the facial tissue, a mini facelift is a less invasive procedure. Mini facelift surgery produces a  short scar and is ideal for patients who aren't seeing the same results from their history of Botox, dermal fillers, and skin tightening procedures. 
Characteristics of a Mini Facelift
A limited incision around the temples and only in the area immediately behind the ear

Less swelling, bruising, and downtime than a traditional facelift procedure.

A mini facelift can be performed in tandem with a facial fat transfer or dermal fillers to both lift and fills saggy and aging skin for more complete facial rejuvenation.

A mini facelift procedure has a shorter recovery period than full facelift surgery.

Mini facelift patients experience results lasting approximately 10 years.
In the right patient, a mini facelift is effective and long-lasting. It should be mentioned that this is not an ideal surgery for patients with moderate to severe facial drooping, heavy jowls or severe neck laxity. Patients will see improvement in droopiness of the skin and soft tissue as facial volume is repositioned to give a natural and refreshed appearance.
Whether or not you wear your hair short or long, you'll look amazing without having to worry about scars. Make sure you review the less invasive mini facelift with a board-certified plastic surgeon. Because a mini facelift means different things to different people, it's critical you know the type of procedure you're getting so you can feel confident that you will love your look. 
View before/after mini facelifts by Dr. John Burns, FACS
Recovery Time For a Mini Facelift
Recovery from a mini facelift has a much shorter recovery period than other facelifting procedures. Generally speaking, patients return to light activities within 1 week, and more strenuous activities within 2 weeks. It is common to experience some transient bruising and swelling. Makeup can be applied gently 1 week following surgery. 
Is a Mini Facelift Right For You?
 A Mini lift is an excellent option for patients who are experiencing "filler fatigue", who are less than thrilled with the long-term results of repeated laser treatments, or those who are generally dissatisfied with the appearance of their lower face and neck. Because the procedure offers subtle surgical rejuvenation, it's ideal for younger patients in their 40s-50s who have mild-moderate skin ptosis.
Schedule a mini facelift consultation with Dr. Burns
_______________________________________________________________________
Dallas facelift specialist, Dr. John Burns is one of the leading facelift surgeons in the United States. Having performed thousands of facelift cases alone, Dr. Burns was selected as one of America's Top Plastic Surgeons by Newsweek Magazine and Statista. Dr. Burns offers both virtual and in-office plastic surgery consultations for men and women seeking facial rejuvenation in Dallas, throughout the United States, and the world.