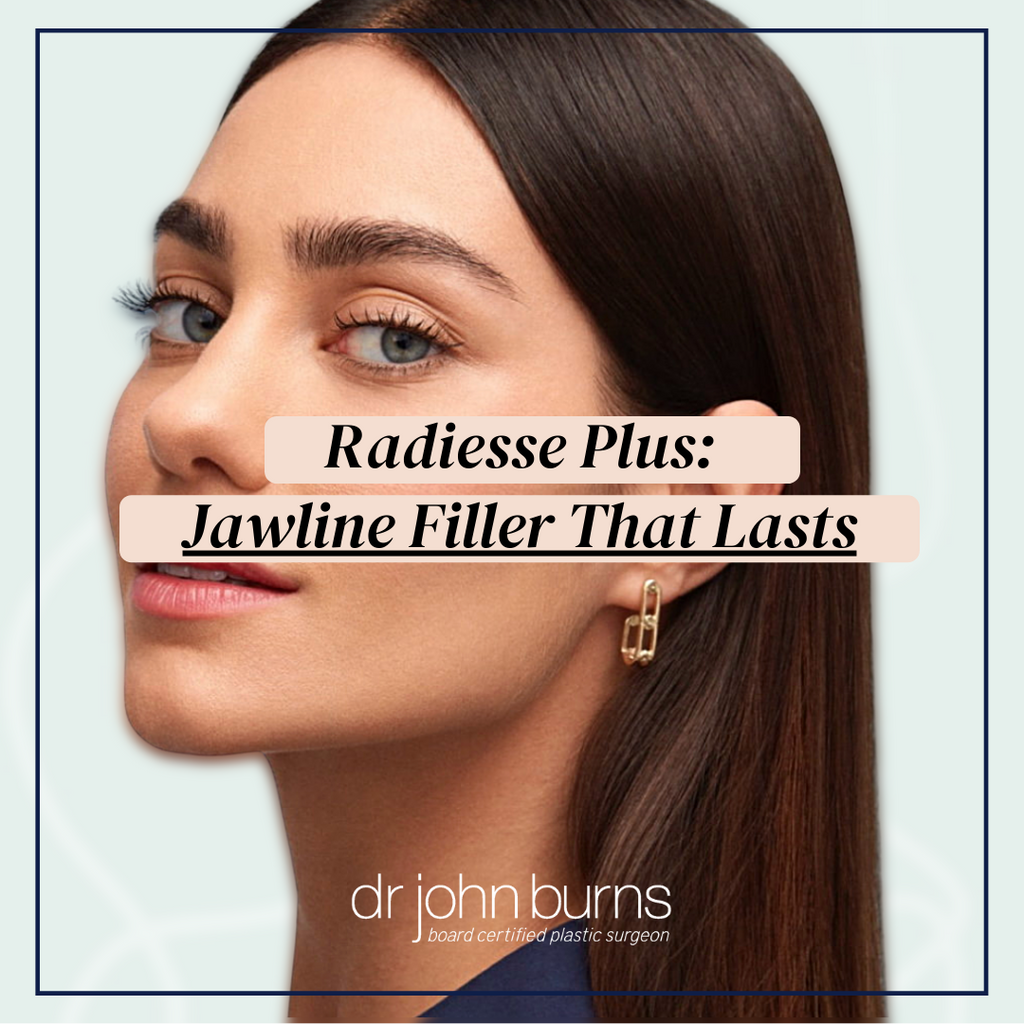 The rise of social media has caused a shift in focus on improving one's appearance. We never really knew what was possible for our facial features until the invention of facial filters on popular social platforms like Instagram, Snapchat, and TikTok. Now it's as though everyone is searching for cosmetic procedures that will bring the "filtered look" to life on their face, and achieving jawline definition is now a top request from patients coming into my practice.
You might not have considered this before, but our brains are subconsciously wired to pattern relationships and judgments based on facial features like jawline structure. We typically associate a weak jawline that is soft and rounded with weakness and inferiority, while a well-defined jawline signifies vitality, health, and youthfulness. 
So what can plastic surgeons offer their patients to non-surgically contour their jawline? Radiesse Plus™ is the latest dermal filler with two-fold benefits for patients wanting to achieve their aesthetic goals.
What is Radiesse (+) Plus™?
Originally formulated in 2006 by Merz Aesthetics, Radiesse has long been a popular alternative to hyaluronic acid fillers.  Radiesse is made using calcium hydroxylapatite (CaHA), a filler that gives both immediate results and long-term benefits through collagen stimulation.  Radiesse Plus™ refers to the addition of lidocaine to numb the treatment areas to minimize patient discomfort and increase patient satisfaction.
Traditionally, dermal fillers have been used to camouflage soft tissue depressions (think smile lines and volume loss at the mouth and jowls) and fill in deep wrinkles. As technology has evolved, fillers have become more robust allowing users to augment the facial skeleton.  Bony augmentation is effective in facial areas like the brow, cheekbones, chin, and jawline.
For bony augmentation, there are several effective injectable filler options, including (but not limited to) Juvederm Voluma, Restylane Lyft, Restylane Contour, and Radiesse Plus™.  
How Does Radiesse (+) Work?
Unlike Juvederm and Restylane dermal fillers, Radiesse is not a hyaluronic acid dermal filler.  The calcium hydroxylapatite (CaHA) gel-based microspheres are strategically injected to define and sculpt the jawline. Over time, your skin creates new, natural collagen in the areas where Radiesse Plus™ was injected, so you get the immediate benefit of a facial dermal filler and the longterm benefit of collagen creation in the skin. The collagen-stimulating effect does take some time to manifest. 
Another differentiating quality of Radiesse Plus™ is that it comes in a 1.5cc aliquot, in contrast to the other Hyaluronic Acid products which come in 1.0cc syringes.  The extra filling effect goes a long way when attempting to contour bone while filling volume-depleted areas at the nasolabial folds and marionette lines.
In the jawline specifically, Radiesse Plus™ can be added around the chin to enhance projection or to sharpen the transition between the jawline and neck.  Closer to the ear, Radiesse Plus™ can be placed to fill in a common depression at the "angle" of the jaw to enhance contour in this area as well.
Bony Facial Augmentation
When choosing a filler for bony augmentation, the product should be firm or highly viscous and longer-lasting.  Softer fillers like Volbella, Restylane Refyne, or Belotero are made for fine lines and wrinkles and are poor choices for bony augmentation.  It is also important to understand that it will take more volume in a dermal filler product to demonstrate a visible difference.  Because these fillers are placed deeper and need to accomplish more augmentation, the amount of filler used will by definition be more than for more superficial soft tissue filling.  That said, these fillers are powerful and offer an excellent noninvasive option for bony augmentation.  In the case of Radiesse (+)™, contouring the jawline and enhancing collagen production is a perfect fit.
---------------------------------------------------------
Dr. John L. Burns Jr. MD, FACS is board-certified by the American Board of Plastic Surgery and President of the Dallas Plastic Surgery Institute, one of the largest plastic surgery group practices in the United States. Dr. Burns also serves as Medical Director the
EpiCentre Skin Care and Laser Center
, Dallas' Premier Medical Spa.  Dr. Burns dedicates his practice to aesthetic or cosmetic plastic surgery. Call (214) 515-0002 or email Info@DrJohnBurns.com to schedule a complimentary consult with Dr. Burns.