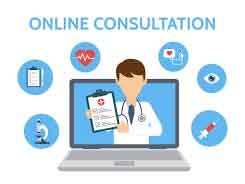 With the recent Coronavirus pandemic, the ONLINE or virtual consultation can be a helpful and effective option for many patients.  An online consultation can be done from the privacy of your own home without the need for travel to the office until the time of surgery.
Reasons for an Online Consultation
Recent Coronavirus pandemic
Out of town patients
Convenience: patients who have difficulty getting time off work 
Comfort:  many patients feel more comfortable with this format
The Process
Step 1:  Contact Dr. Burns using the ONLINE consultation webpage form.  Please include a brief description of the procedure(s) you are interested in and relevant photos.  In most cases please include 3 views:  front, oblique (half turn), and side view).
Step 1a:  Alternatively you can email Dr. Burns directly with photos and questions to the following email address:  drburns@drjohnburns.com
Step 2:  Dr. Burns will review your case including your past medical history and make recommendations.  His office manager will also send a quote or cost estimate for the recommended procedure(s).
Step 3:  If requested Dr. Burns can call you and speak with you directly about your case.
Step 4:  Preliminary paperwork and scheduling if you decide to proceed.
3D Imaging Available for Many Procedures
Using an online application, Dr. Burns can simulate your procedure using 3D Imaging technology.  This technology is particularly useful in breast augmentation where implant sizes can be viewed.  For 3D imaging three standardized photos are submitted to generate the 3D image.