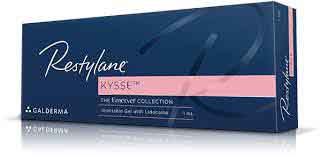 The FDA has recently approved a new lip filler from Galderma:  makers of Restylane line of fillers.  Restylane Kysse for lip enhance is a brand new hyaluronic acid filler designed especially for the lips.
Restylane Kysse is made with a unique cross linking formulation that balances the filler's structure and flexibility to suit the highly soft and mobile lip area.  The filler particles are smaller than other Restylane fillers making it less prone to palpability and lumps.  Restylane Kysse is also longer lasting.  It lasts up to a year in comparison to other lip fillers that last 6 to 9 months.  
The FDA approval is "for injection into the lips for lip augmentation and for correction of upper perioral rhytids in patients over the age of 21."  The filler is not yet available but will be coming soon.  Stay tuned for this exciting new option for lip enhancement!