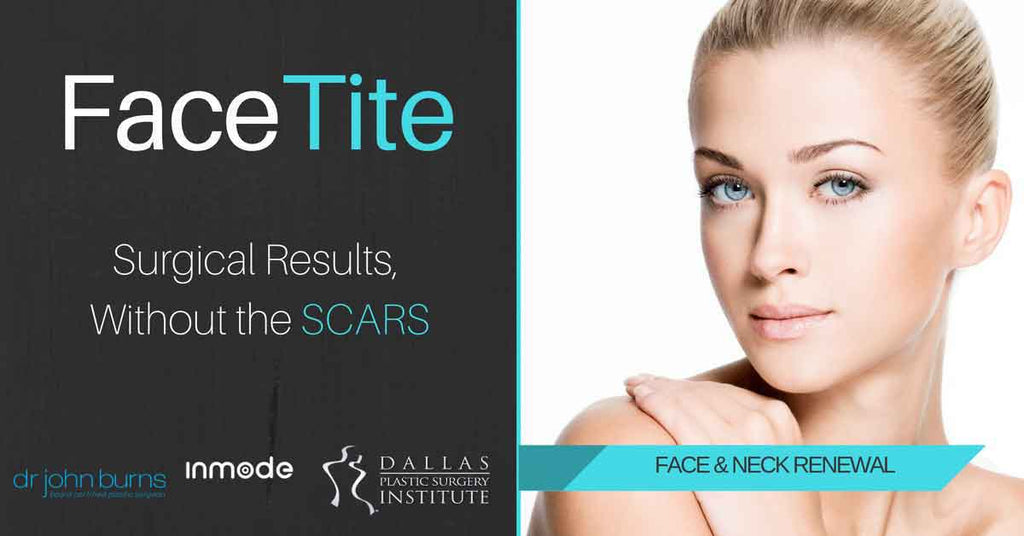 Facial rejuvenation refers to a broad range of procedures designed to maintain, reverse aging, and restore a youthful appearance to the face and neck.  There are numerous options available which may be better for certain age groups or aging indications.  These options fall into two categories: invasive or surgical and noninvasive or nonsurgical.  Surgical options can be necessary to achieve desirable results if gravity, loose skin, and lax tissue are the overriding issues.  Surgical options would include a facelfit, eyelid rejuvenation (blepharoplasty), or browlift.  These options are typically reserved for patients in whom noninvasive option will not achieve the goal endpoint.
Noninvasive facial rejuvenation options would include such procedure as Botox, Facial Fillers, lasers, thread lifts, chemical peels, or tissue tightening devices such as FaceTite.  FaceTite is a minimally invasive non-surgical procedure that both tightens skin and removes fat.  FaceTite uses radiofrequency (RF) energy to bulk heat deeper tissue to target fat and the deep layer of the skin; reticular dermis.  This dissolves fat and causes skin contraction and tightening.
FaceTite can be done using only local anesthesia or with mild sedation.  A tiny pin prick is used to introduce a small cannula attached to an exteranl applicator and passed back and forth to heat the tissue using radiofrequency energy.  The procedure lasts about an hour.  The results can be seen almost instantly but improve over the course of several seeks as swelling diminishes and the skin becomes tighter as collagen remodels.  Any fat that is dissolved is slowly resorbed by the body.
FaceTite is ideal for those middle age patients, age 35 to 55, with mild to moderate tissue laxity who are not quite ready for surgery such as a Facelift.  FaceTite is less invasive and therefore has less bruising, swelling, and downtime than surgery.  Redness and swelling from the procedure will resolve in about a week and most patients can return to work in a few days.  FaceTite results last about five years.