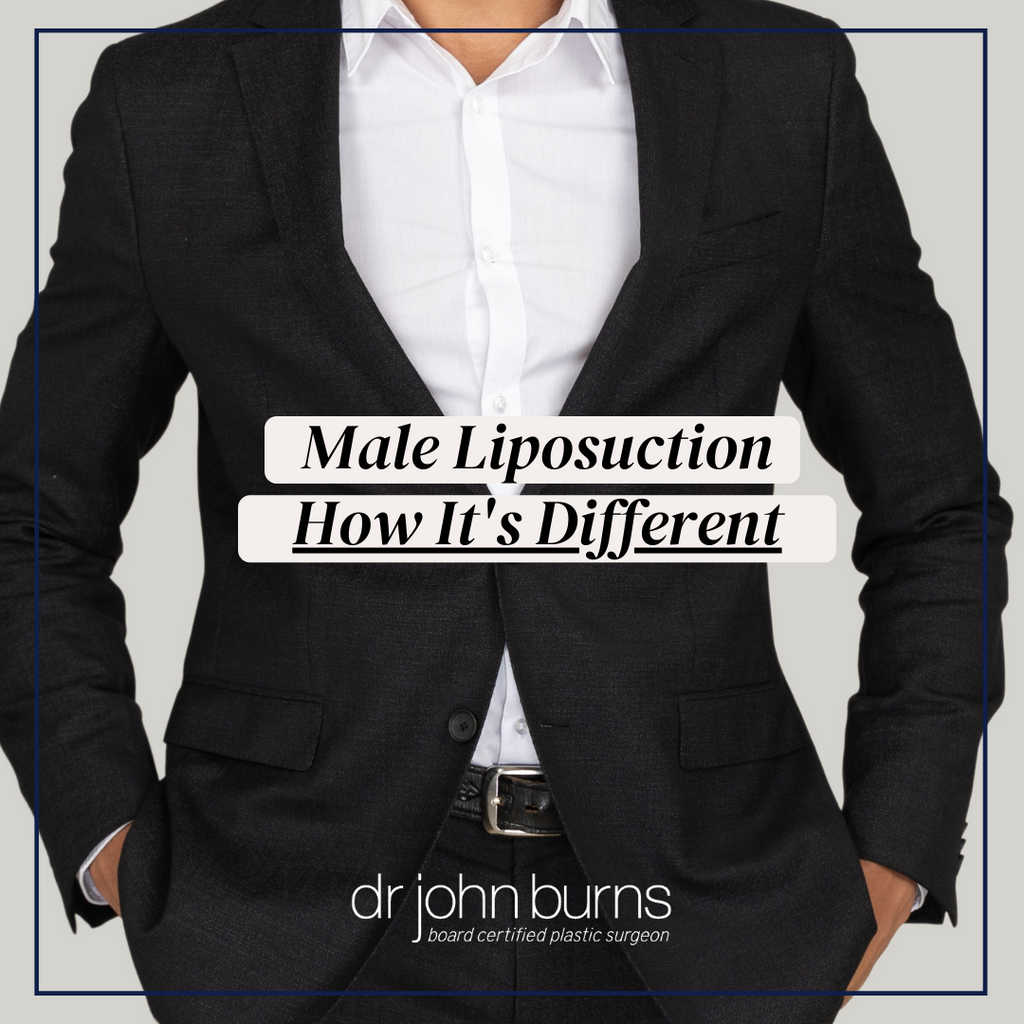 Men have different reasons for wanting plastic surgery, and their decision to explore surgical intervention doesn't happen overnight. The truth is that men also want to look their best, and they too fight similar insecurities as women. Because of the cultural taboo that still exists around men having plastic surgery, men will often share that they spend years researching and debating whether having a cosmetic procedure is really right for them.
Statistics by the American Society for Aesthetic Plastic Surgeons (ASAPS) reveal that men are actively seeking cosmetic surgery to turn back the clock and keep their competitive edge. In fact, liposuction and chest reduction (known as gynecomastia or male breast reduction) are among the top plastic surgery procedures for men. 
Along with Botox Cosmetic® and facelift surgery, tumescent liposuction is the most male-requested procedure in my practice. Half of my patients are looking to correct male breasts or "man boobs" and the other half want to remove unwanted fat at the abdomen and love handles and concerns like a double chin. For some men, this means a stubborn pinch of fat, and for others, it could look like volumes (ccs) of fat removal. There are two primary types of fat that should be reviewed so you understand the "why" behind what is able to be achieved with liposuction. Let's review them briefly.
The Two Types of Fat Men Battle
It's important that men have realistic expectations about what is achievable with liposuction procedures. To set the expectation and ensure my male patients are good candidates for liposuction, we start with an initial consultation to review their areas of concern, treatment details, downtime, and results. In my cosmetic consults, I discuss the two types of fat abdominal fat impacting men, located in two separate anatomic locations on either side of the abdominal wall.
Visceral fat (intra-abdominal fat) is located behind the abdominal muscles. This type of fat cannot be treated with liposuction. For men experiencing visceral fat manifesting as hard (not squishy) fat in the abdomen, only diet and exercise will help.
Subcutaneous fat responds well to liposuction surgery. This fat lives below the skin, on top of the abdominal muscles.
Male Body Contouring Using Liposuction
VASER® uses ultrasound energy to break up fibrous connective tissue with less swelling and bruising than traditional liposuction. VASER® liposuction ensures I can maximize fat removal in a way that creates a smooth finish with better recovery time for the patients. For men specifically, I also use VASER® to outline the abdominal muscles using an advanced liposuction technique called abdominal "etching." There are some nuances to treating the male anatomy with liposuction. You'll want to make sure that your board-certified plastic surgeon has the experience and proven consistent results. Revision liposuction is a very common procedure for men and women, so make sure it's done right the first time!
How Male Lipo Of The Chest and Love Handles Is Different
The male chest is unique in that there is generally a combination of fat and breast or glandular tissue. Gynecomastia is a condition in which fat and enlarged breast tissue create "man boobs".  To achieve a flatter, more masculine chest, a combination of liposuction and surgical excision of breast or glandular tissue is usually needed.  The glandular tissue is generally located behind the areola and is removed by making a small incision around the areola that eventually heals with a virtually imperceptible scar.  The remaining fat is removed with VASER Liposuction to contour and define a man's pecs.
Removing a man's love handles is a lot different than performing liposuction for women.  With men, I strive to respect the male form, which is less hourglass and more rectangular.  I use VASER to remove the maximum amount of fat possible while keeping a strong masculine appearance.
Male Liposuction Recovery
Recovery time for male liposuction is relatively minimal.  Most patients can return to normal activities in a matter of days and light, regular exercise (no strenuous activities) is achievable 1-2 weeks following surgery. Compression is worn for 4 - 6 weeks after the procedure to help ensure a smooth and contoured skin tone.  Swelling can persist for several months with the final result being seen at 6 months.  
Dr. John L. Burns Jr. MD, FACS is board-certified by the American Board of Plastic Surgery and President of the Dallas Plastic Surgery Institute, one of the largest plastic surgery group practices in the United States. Dr. Burns also serves as Medical Director at EpiCentre Skin Care and Laser Center, Dallas' Premier Medical Spa.  Dr. Burns dedicates his practice to aesthetic or cosmetic plastic surgery. Call (214) 515-0002 or email Info@DrJohnBurns.com to schedule a complimentary consult with Dr. Burns.