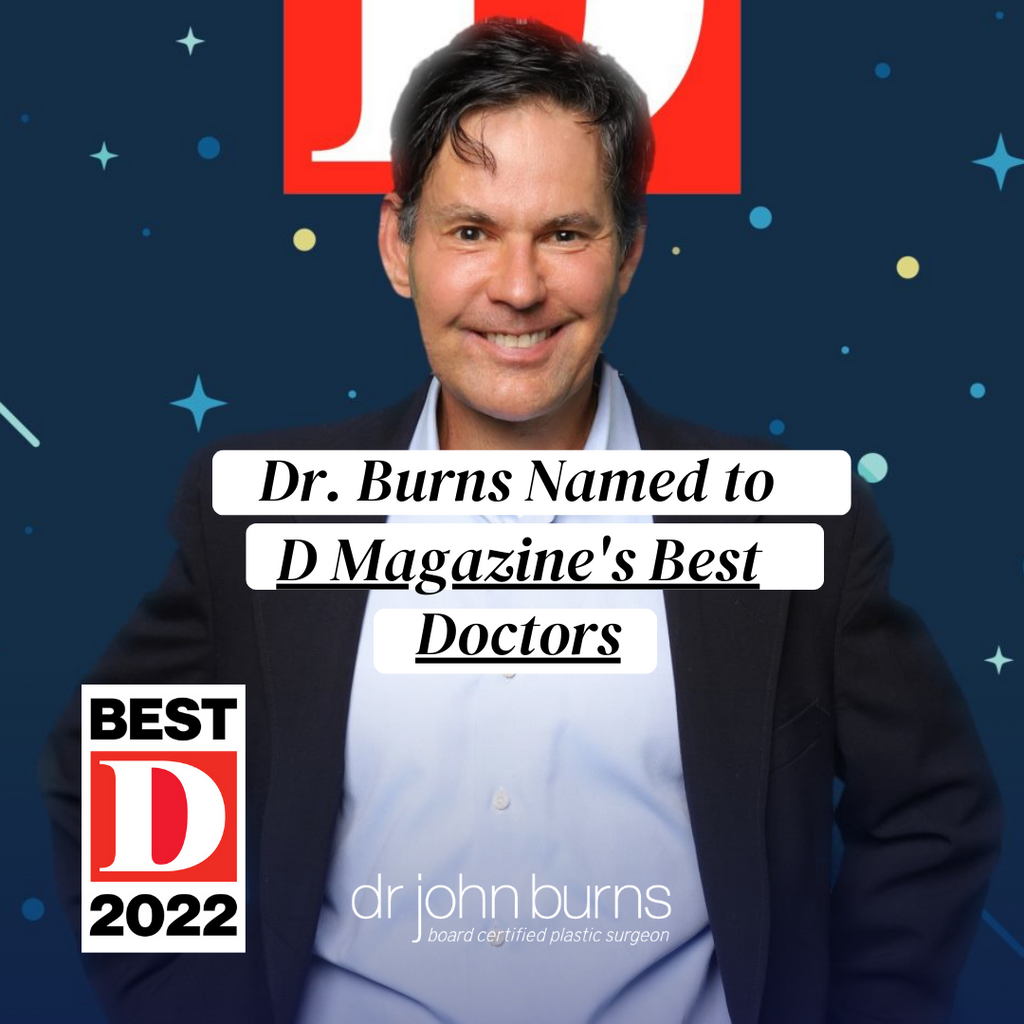 Dallas native and world-renowned plastic surgeon Dr. John Burns, MD, FACS, is recognized as a Top Doctor in Dallas by D Magazine.
Dallas, Texas |  0ctober 1, 2022

Dr. John Burns, a native of Dallas and President of the prestigious Dallas Plastic Surgery Institute was named one of Dallas Top Doctors by D Magazine for 2022. D Magazine is a monthly magazine covering Dallas-Fort Worth and covers all-things Dallas, including politics, business, food, fashion, and lifestyle interests.
Each year, D Magazine highlights the regions best physicians as chosen by their peers. Votes are tallied and sorted by the  editorial staff, and the remaining votes are vetted by an anonymous panel of esteemed doctors.
This is the tenth time Dr. Burns has received this award from D Magazine.
Dr. Burns is the President of Dallas Plastic Surgery Institute, one of the largest plastic surgery groups in the United States, and the Medical Director of Epicentre Skincare and Laser Center, a world-renowned medical spa.

When learning of receiving the award from D Magazine, Dr. Burns remarked, "I am humbled and honored to be recognized as one of Dallas' best plastic surgeons.  I am incredibly proud of our amazing staff who work diligently to provide the best care in the world.  Personally, I strive to give the very best result for each of my patients to give a beautiful and natural result."
About Dr. Burns' Practice
For the past 18 years, Dr. Burns has developed a reputation for creating natural-looking plastic surgery outcomes for women and men.  He is internationally known for:
-expertise in cosmetic breast surgery, fat transfer procedures to the face, breast, and body, the "lift and fill" facelift, mommy makeover, Brazilian butt lift, rhinoplasty, and nonsurgical facial rejuvenation.
Dr. Burns is known for creating natural beauty and his practice philosophy is to achieve the finest possible result with the least risk. He offers complimentary consultations to local, national, and international patients.