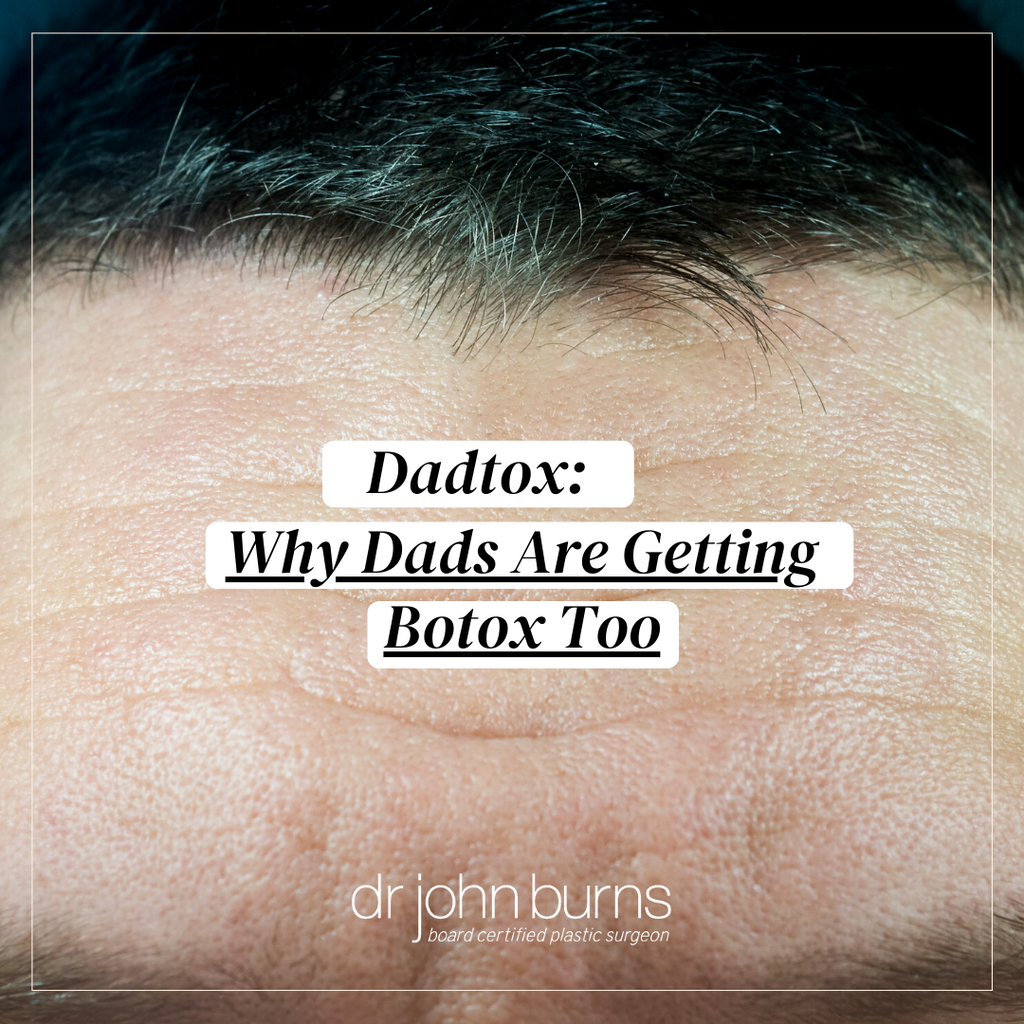 It may sound non-traditional, but gifting dad some Botox for Father's Day might be the secret win he's been wanting this year. Why? Because dads want to look and feel their best too, and because Botox Cosmetic has many obvious benefits for men. 
Our plastic surgery practice caters to many local Dallas dads for a variety of cosmetic surgery procedures like high-definition liposuction, chin and jawline implants, neck lipo, and "Brotox", or Botox for men.
It's just a fact that society equates health and vitality with smooth skin and fewer wrinkles, and Botox is a non-surgical solution for men who don't want downtime and more importantly, don't want to look like they've had plastic surgery.
Our male patients tell us that, after having kids, they have a greater awareness of their own aging process, especially signs of aging on the face. Some dads even quietly confess concerns over becoming the frumpy dad with the dad bod, and their faces and bodies don't always show the evidence of the consistent hard work they are putting in to look their very best.  Partner that with the pressure of their job, and other concerns of life. You could say, most men are begging for a little Dad Do-over, and Dadtox is a perfect gift to get them the lift they need, in more ways than one.
Where Do Guys Get Botox?
Botox is a perfect fit for guys as the results are easy, scar free, and natural.  The most common areas to be treated are the forehead, glabella (the 11's between the eyes), and crows feet.  These areas commonly show marked lines that are the signs of aging in men. 
Botox Cosmetic is essentially a muscle relaxer that smooths the skin preventing muscle movement that causes wrinkles. Over time, the muscles get smaller and the skin smoothes out, producing a natural, more youthful result for men.
How Does Botox Work For Men?
Male Botox or "Brotox" is administered differently from a woman's Botox treatment.  The male brow is typically straighter with less arching to the brow.  Because a man's muscles and skin are thicker and more robust, typically more Botox is required to produce a youthful appearance.  For example, most women will respond to between 25 and 35 units for the upper face while men typically require 50 units.  Botox injections last between 3-4 months but sometimes wear off more quickly in men-- especially those with faster metabolisms.
Buff Dads Should Know This-
For athletic men, Botox has the additional benefit of decreasing perspiration at the forehead, making sports like golf, tennis, and running more comfortable with sweat reduction. Many of my male patients comment that this is also helpful in the workplace and boardroom as well.  
Other men battle a condition known as hyperhidrosis, or excessive sweating of the underarms, hands, and feet.  Injecting botox will decrease sweating in these areas for up to 6 months, having a huge impact for men who battle anxiety with having to shake hands or during high-pressure meetings and workplace presentations.
Bottom line, no matter the reason, it's normal for Dallas Dads to want to look great, and Dadtox is a wonderful place to start.