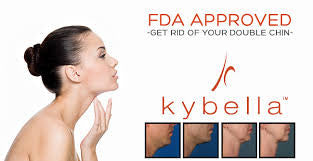 Kybella is a revolutionary new FDA approved product to dissolve chin and neck fat to treat a double chin.  Kybella is a simple outpatient office treatment that takes only a few minutes and permanently removes double chin fat.  As with any new product, there is a learning curve for optimal treatment. Herein, we present steps for optimizing the Kybella treatments and results. 
We are an Allergan Double Black Diamond account and rank in the Top20 busiest injectable practices in the United States.  Over the past year, we have worked towards perfecting our Kybella technique and protocols.  
1.  Kybella is a process.  Kybella works but photography is very important.  Standardized photography is necessary because Kybella works slowly over time.  It is difficult to remember where you started, therefore a pretreatment standardized photo is mandatory.  You also will look very different in photographs than you do in a mirror.  Looking at photographs before each treatment is helpful in documenting progress and determining a good endpoint for treatment.
2.  Kybella is unique to every patient.  While every patient responds to a certain extent, some patients will respond better than others.  This is not unique to Kybella and is observed with other treatments such as Botox.  For example, Botox will last longer in some patients than others.  This makes it difficult to precisely predict how many treatments or how much Kybella will ultimately be necessary to achieve a desired endpoint.  The goal is always to achieve the best result with the least product and fewest number of treatments; thereby saving patients time and money.  
3.  Kybella can be done is a relatively painless way.  All our patients receive a regional block with buffered lidocaine to make the treatment more comfortable.  Numbing cream is applied to the area before the block is administered to decrease any discomfort from the lidocaine.  The block prevents patients from feeling a burning sensation in their neck after treatment.  
4.  Kybella does require finesse and intricate knowledge of facial anatomy to avoid complications.  The marginal mandibular brach of the facial nerve lies in the area of neck fat.  It is critical to know how to avoid injecting near this nerve to avoid complications.  Kybella does provide a temporary neck grid which is standardized to an average treatment.  In many cases, the grid is very useful.  
However, the standard grid does not allow for customized treatment and instead has a one size fits all design.  With knowledge of facial anatomy, you can more precisely deliver the Kybella tailoring it to each individual patient's goals and anatomy. This is precisely why Kybella should be injected by a physician and not delegated to a physician extender.  
5.  With excellent numbing of the neck with the regional block, Kybella can be delivered painlessly and more precisely by increasing the number of injection points.  Using more injection points allows the Kybella to be distributed over a larger area with precision.  The result is that often one vial can be used to treat a neck and accomplish what 2 vials would do if placed less precisely.  Using a smaller needle, 32 guage, dosed through a 0.3cc syringe, the number of injection points can be increased delivering the Kybella more evenly and more precisely with no pain. 
6.  Tailor each treatment specifically for each patient.  Each patient should be in charge of how much Kybella to purchase and how many treatments they want.  Using photography, we review the progress before every treatment.  Using precise injection technique tailored specifically for each patient, every drop of Kybella is put to good use and not wasted.  Our goal is to accomplish every patients goal using the least product and save our patients both time and money. 
7.  Using our partnership with Allergan, makers of Botox, Juvederm, and Kybella, we work together with Allergan to make the process more affordable to our patients.  As a US Top20 Allergan account, we purchase in bulk and often receive coupons which we can pass on to our patients.  
We also enroll all of our Allergan patients into the Brilliant Distinctions (BD) program.  BD allows patients to earn points for Allergan purchases (Botox, Juvederm, Kybella. Latisse, Skin Medica Skin Care) and earn discounts on future treatment.  This can be very helpful with making a series of treatments more affordable.
In summary, Kybella is reliable and proven method of treating a double chin.  Using precise injection techniques, Kybella can by more accurately injected saving patients time and money while optimizing results.
Dr. John Burns,MD
Board Certified Plastic Surgeon
Dallas Plastic Surgery Institute
Dallas, TX