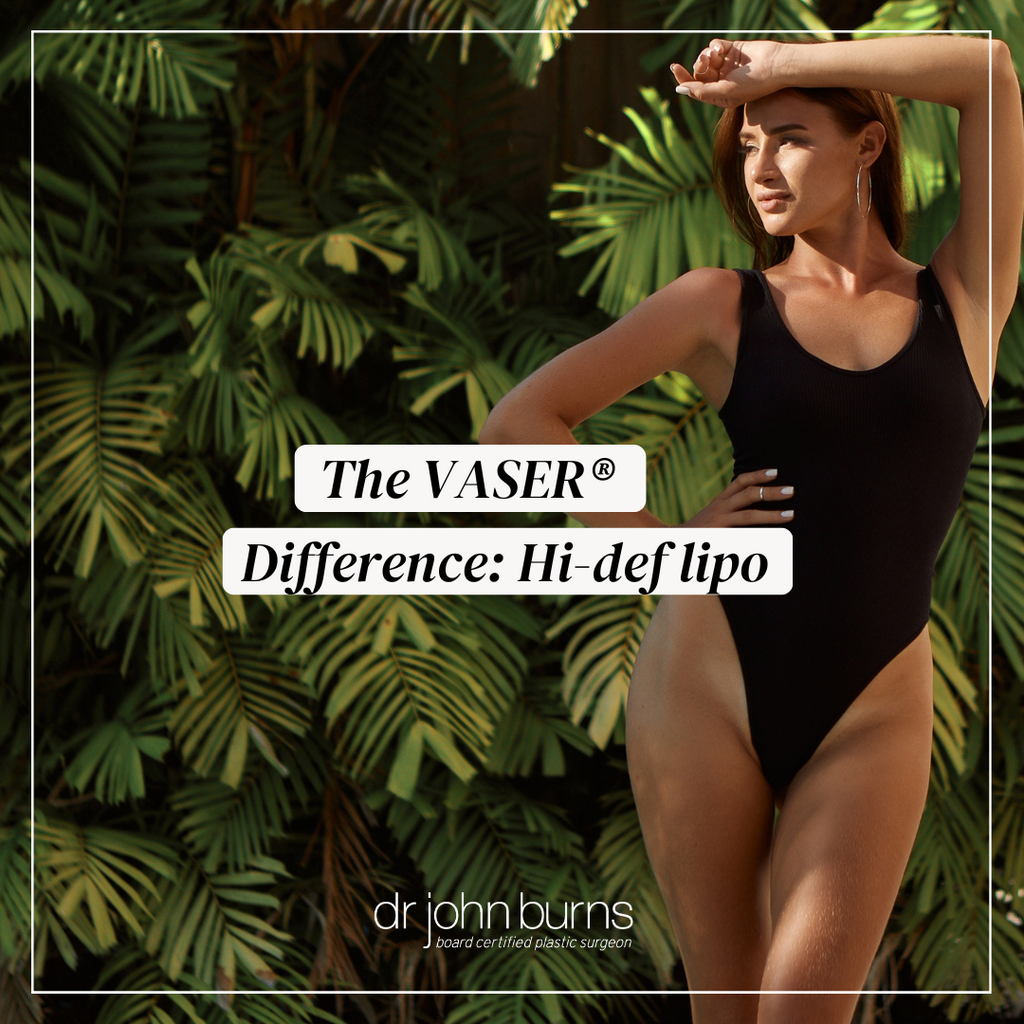 The latest statistics from the American Society of Plastic Surgeons prove that liposuction continues to be the most popular cosmetic procedure for men and women looking to enhance their figures and remove unwanted fat. 
Liposuction: 296,601

Breast Augmentation: 252,022

Abdominoplasty (Tummy Tuck): 163,073

Removal Replacement - Breast Implants: 109,619

Mastopexy (Breast Lift): 102,751
Whether we're talking about liposuction as a standalone procedure, or in combination with procedures like a tummy tuck, it's no question that lipo is unmatched in its usefulness for body contouring.
Schedule VASER® lipo consult with Dr. John Burns
About Traditional Liposuction
Traditional methods of suction-assisted liposuction, developed in the 1970s, involve removing fat deposits from stubborn areas on the body like the chin, arms, bra bulge and chest, abdomen, love handles, and thighs. In general, fat is removed using cannulas introduced through discrete incisions on the body. Tumescent liposuction techniques are generally categorized by the amount of fluid injected (saline, lidocaine, and epinephrine) to extract fat with less pain and bruising. 
The VASER® Liposuction Difference: Ultrasound-Assisted
More commonly known as Ultrasound-Assisted Liposuction (UAL), VASER® is actually an acronym that stands for Vibration Amplification of Sound Energy at Resonance. VASER® is a unique liposuction device that uses ultrasound to dissolve fat cells before suctioning occurs. 
While extracting fat tissue, VASER® applies heat to surrounding soft tissue so that it contracts as it heals, breaking down the connective tissue that causes scarring to develop.  When fatty tissue is removed, liposuction results are smoother and tighter. The ultrasonic energy released from VASER® reduces postoperative pain and temporary side effects like bruising and swelling.
VASER® is the only liposuction device on the market that allows board-certified plastic surgeons to produce a high-definition effect on treatment areas like the chest, abdomen, and obliques in a surgical technique known as "etching". 
In instances where complete fat removal was not accomplished and revision liposuction is needed, and in cases where densely fibrous areas makes traditional liposuction more difficult, VASER® is the ideal tool. Using ultrasound-assisted liposuction, VASER® allows plastic surgeons to achieve smoother and more complete results on hard-to-treat areas like the back and male chest. 
Plastic surgeons performing traditional tumescent liposuction would agree, the greatest advantage of VASER® is that it helps to avoid contour irregularities and depressions, which are a common complication of liposuction procedures.  All in all, VASER® ultrasound liposuction is a huge advance in liposuction technology improving the precision, control, and recovery.
Am I A Good Candidate for VASER® Liposuction?
Anyone can have VASER Liposuction for cosmetic purposes. Patients who are already fit select VASER® to tone and sculpt areas that are more difficult to remove with strict dieting and exercise. That said, VASER® is not recommended as a weight loss method, and does not treat obesity. Your plastic surgeon will review your medical history and visit with you about your goals to determine if you are a candidate for VASER® liposuction. During your cosmetic consult, your surgeon and his care team will review details like anesthesia, recovery time, cost, and results expectations.
Read more: How to optimize your liposuction results
Schedule Your VASER® Liposuction Consult 
Like any plastic surgery procedure, it's important that you are educated and informed, and it's important that you feel confident about your decision to have surgery. You should also feel comfortable with your choice in your plastic surgeon.  I offer complimentary cosmetic consults (both in-office and virtual) so you can decide if I am the right fit for your cosmetic needs.
Should you have a question about VASER® or any procedure we offer, please reach out to us. We're happy to help.
Dr. John L. Burns Jr. MD, FACS is board-certified by the American Board of Plastic Surgery and President of the Dallas Plastic Surgery Institute, one of the largest plastic surgery group practices in the United States. Dr. Burns also serves as Medical Director the the EpiCentre Skin Care and Laser Center, Dallas' Premier Medical Spa.  Dr. Burns dedicates his practice to aesthetic or cosmetic plastic surgery. Call (214) 515-0002 or email Info@DrJohnBurns.com to schedule a complimentary consult with Dr. Burns.