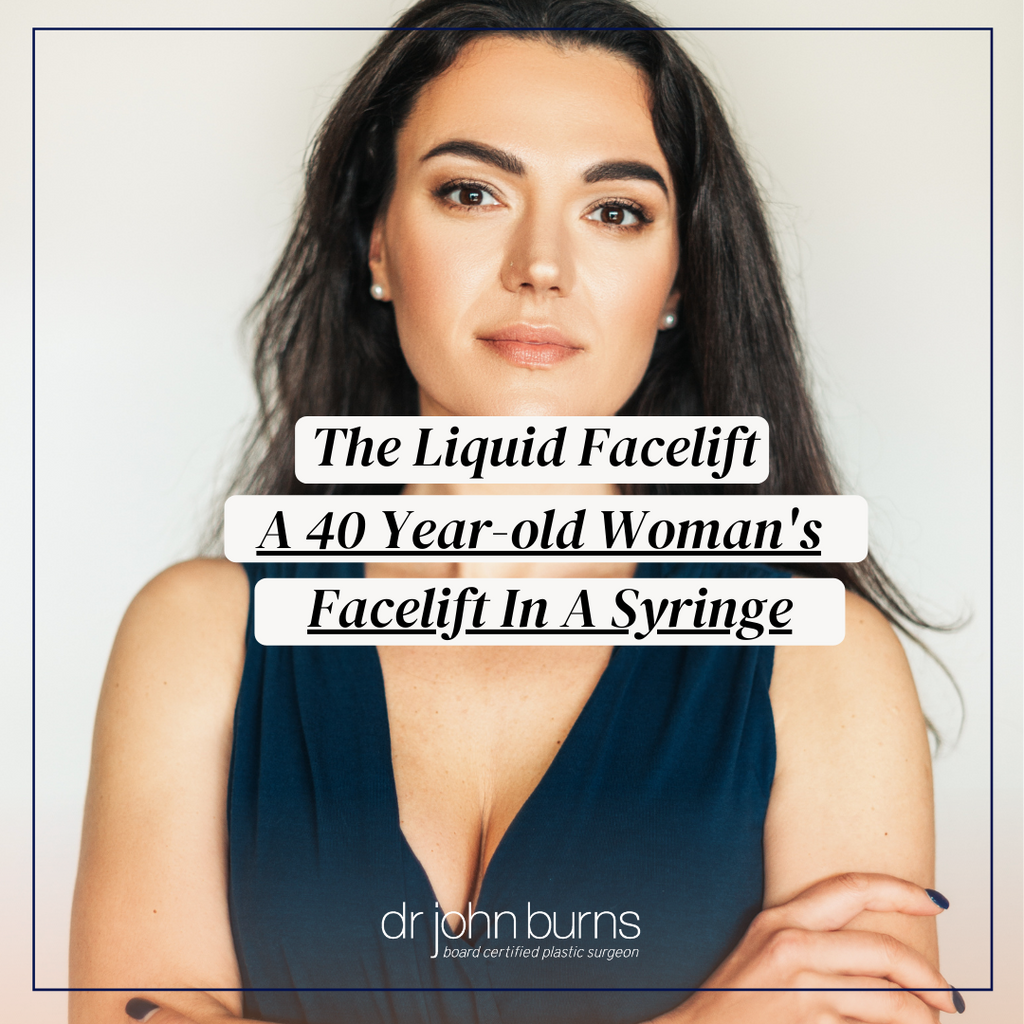 Not everyone is ready for surgery, and younger women especially, have major concerns about the cumulative effect of having too many cosmetic procedures too soon. 
The decision to have any sort of facial rejuvenation treatment really depends on how you feel about what you're noticing about your facial appearance. I often meet women who share the growing self-consciousness about their appearance when looking in the mirror, taking selfies, or while on Zoom conferences.
While there are many nonsurgical options like Moxi and BBL that can stave off the signs of aging, they do very little to replenish the structural support and volume that is necessary to give a youthful, firmer appearance to the skin.
Facial aging (which begins in your early twenties) breaks down collagen and elastin while causing fat loss in the deep layers of the skin. Women in their late 30s and early 40s start to notice the beginning of sagging jowels, loose skin, and skin that wrinkles more easily.
What Is A Liquid Facelift?
Simply put, a liquid facelift is a nonsurgical treatment using cosmetic injectable fillers to rejuvenate the face.  In fact, dermal fillers are being used, oftentimes with Botox and Dysport to restore lost facial volume while lifting minimal skin sag and refreshing the overall appearance.
Botox and dermal fillers used in a liquid facelift procedure can
raise the brow (botox) while filling in volume loss at the temples (dermal fillers).

awaken the expression and brighten up tired eyes (botox) while minimizing hollowed eyes and tear troughs (dermal fillers)

elevate receding lip tissue known as a lip flip (botox) while smoothing deep folds at the smile lines and nasolabial folds (dermal fillers).

relax an overly dynamic chin (botox) while lifting the jowel while restoring structural volume to the cheekbones (dermal fillers).
Some patients may want to target the entire face, while others prefer to focus on a specific area that is really bothersome to them.  The beauty of a liquid facelift is that it is completely customizable, and your plastic surgeon can go as fast or as slow as you'd like to build your facial contours
Types of Dermal Fillers Used in a Liquid Facelift
You have a range of cosmetic injections available to achieve a liquid face lift. 
Hyaluronic Acid: These are the most popular injectable fillers in the cosmetic industry today. Juvederm, Restylane, and Revance are hyaluronic acid fillers you have probably heard of through influencers in the beauty industry.  Depending on the type of hyaluronic acid filler and the area being treated, these fillers can last from 4-12 months. Hyaluronic acid fillers are completely reversible, if you don't love your look for any reason. 
Radiesse dermal filler is made of calcium hydroxyapatite and is a non-reversible filler lasting up to 16 months. 
Sculptra Aesthetic, made of Poly-L-lactic Acid: This type of filler is used to increase volume in areas such as lips, cheeks, and chin. It lasts up to 24 months and requires 3-4 injections over a series of appointments.
Fat injections are also known as soft tissue augmentation and is more long lasting treatment for correcting facial wrinkles. This type of filler includes fat taken from the patient's own body in a liposuction procedure. While there is a reabsorption rate of a small percentage of fat, facial fat transfer is known to last for years.
How Long Does A Liquid Facelift Last?
Botox and dermal fillers won't last forever, so you need to plan for some form of maintenance, either with more injections in the future, or with a procedure like a mini facelift.
Is a Liquid Facelift Right For Me?
Being in your 40s means you are now considered middle-aged. If you are noticing the subtle signs of aging manifesting as loose skin at the jawline, volume loss at the cheeks and eye troughs, or a generally more "tired-looking" appearance, a liquid facelift might be right for you.  The good news is, you can start as conservatively (with minimal, staged correction appointments) or as aggressively (full correction in 1 treatment) as you'd like.  The beauty of dermal fillers is that they can be used in combination with each other and tailored to the individual, at a pace that is comfortable for her.
Dermal Fillers Done Right by Dr. John Burns
If you're considering a liquid facelift, Dr. Burns offers complimentary consultations to provide you with an analysis of your facial aging and the dermal fillers best suited to refresh your appearance.
If you're ready to book your liquid facelift, for the month of May, 2022  when you buy 4 syringes of dermal filler you'll receive your 5th syringe free. (While supplies last, limited appointment availability).