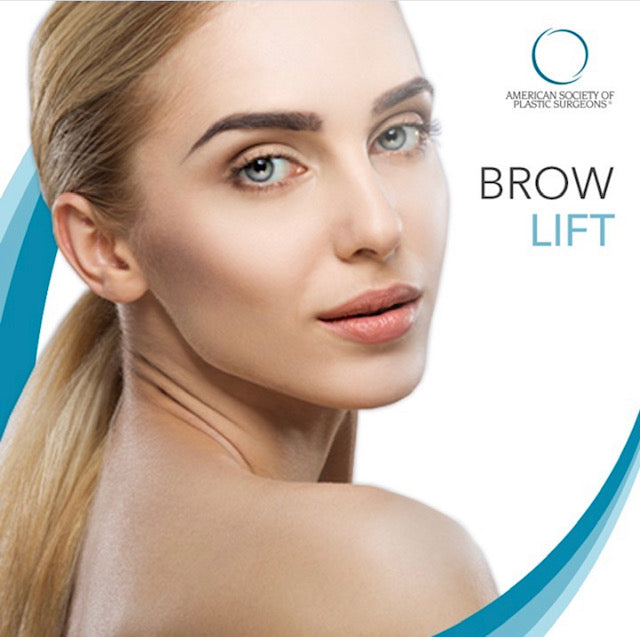 One of the first signs of aging is descent or ptosis of the brow; particularly in the lateral third.  In males, ideal brow position is more straight giving the forehead and eyes a more square and hooded appearance.  In contrast, an ideal female brow will arch in the lateral third to open the eye and give a wider and softer look.  In females the lateral brow should be positioned above the lateral orbital rim (eyesocket) while in men the brow will be directly over the bone.
Correcting or lifting the brow can be done in a variety of ways.  For mild brow ptosis, botox can be used to elevate the brows by relaxing the muscle (orbicularis) that depresses the brow.  Other modalities such as radiofrequency (Thermage) or ultrasound (Ultherapy) can be used in lieu of surgery.
For moderate or significant brow ptosis, less invasive modalities are generally minimally effective.  For these cases, surgical correction is a better and more permanent option.  Surgical options can generally be classified as either open or endoscopic.  The open approach involves a scalp incision from "ear to ear" with excess tissue being removed from the scalp to elevate the brow.  This approach can alter the hairline and does leave permanent and often visible scars.
A less invasive approach is the endoscopic browlift which is the preferred method for most board certified plastic surgeons.  The endoscopic or "endo" browlift is done using much smaller incisions placed in the scalp.  A small camera is used to visualize the dissection, and the elevation is done using a variety of fixation techniques such as Endotine™ , fixation screw, cortical tunnel, or small wedge excision.  Endoscopic browlifts will not distort the hairline and leave only very small scars.
Dr. Burns specializes in the Endoscopic Browlift procedure.  This procedure can be done virtually scarless with no distortion of the hairline and minimal recovery.  For appropriate patients, a browlift can rejuvenate the face in a natural and beautiful way.
*Browlift by Dr. John Burns.  Results may vary
*Dr. Burns' Endoscopic Browlift Procedure Featured in Modern Luxury Magazine
Dr. John L. Burns, Jr., MD is a Board Certified Plastic Surgeon and is President of The Dallas Plastic Surgery Institute; one of the largest plastic surgery group practices in the United States.  Dr. Burns is the medical director for the EpiCentre Park Lane; Dallas' Premier Skin Care and Laser Center.  Dr. Burns specializes in cosmetic surgery of the face, breast, and body.