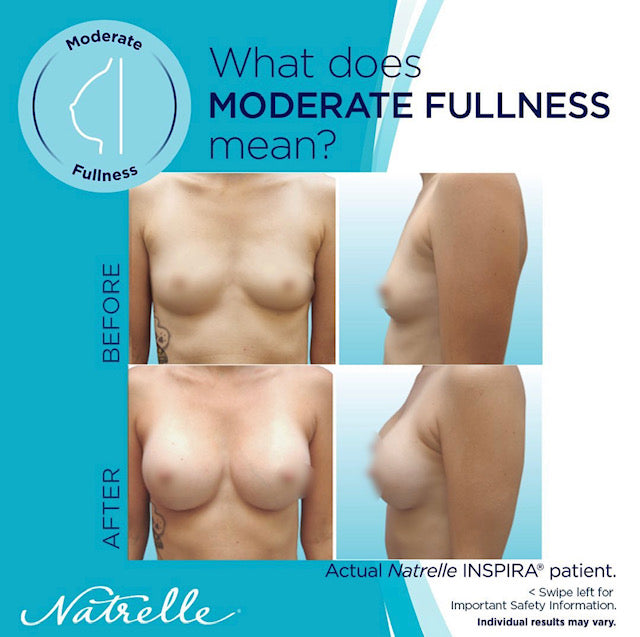 Breast implants come in a variety of sizes or volumes.  The two measurements that define a breast implant would be the base width and profile.  The base width measures the distance across the botton or base of the implant and the profile meaures how fat the implant protrudes or sticks out from the body.
The breast width is measured across the base of the breast and once this measurement is obtained then a profile can be matched to that base to give the desired volume and look.
Breast implants essentially come in 5 different profiles and the nomenclature depends on the implant manufacturer.  
The amount of breast volume or cup size increase will increase as the breast implant profile goes up for a given base diameter.
| | | |
| --- | --- | --- |
| Low Profile | | A low profile implant projects a small amount from the chest and will increase the breast about 1 cup size (example A to B cup) |
| Moderate Profile |   | A moderate profile implants projects an average amount from the chest and will increase the breast about 2 cup sizes (example A to C cup) |
| High Profile | | A high profile implant has the most projection and will increase the breast about 3 cup sizes (example A to D cup) |
As the profile increase patients will have more upper pole fullness, roundness, and cleavage.  A moderate profile implant is an extremely popular option for patients who want a real, visible change but don't want to appear "fake" or overly augmented.  Many patients who choose a moderate profile desire to achieve a more natural but full look.  Many patients who are active and athletic also prefer the moderate profile as it should not interfere with their active lifestyle.
*Moderate Profile Breast Implants by Dr. John Burns.  Results may vary
Help with Choosing the Perfect Size and Profile
Dr. Burns recommends 3D breast imaging to help you choose the perfect volume and profile.  Using a software platform from Crisalix, photos are uploaded and images generated to help you see exactly what you will look like with different implants and profiles. 
You can do the 3D simulation through the following online link:
https://my.crisalix.com/signup/drjohnburns
 With all breast augmentation procedures, Dr. Burns practices a Rapid Recovery protocol to minimize pain and recovery time. 
Read more about Dr. Burns' rapid recovery process
Dr. John Burns Board Certified Plastic Surgeon and President of Dallas Plastic Surgery Institute is a world renowned cosmetic breast surgeon specializing in Rapid Recovery Breast Augmentation using saline, gummy bear, silicone, and fat transfer breast augmentation.  A national authority on cosmetic breast surgery.