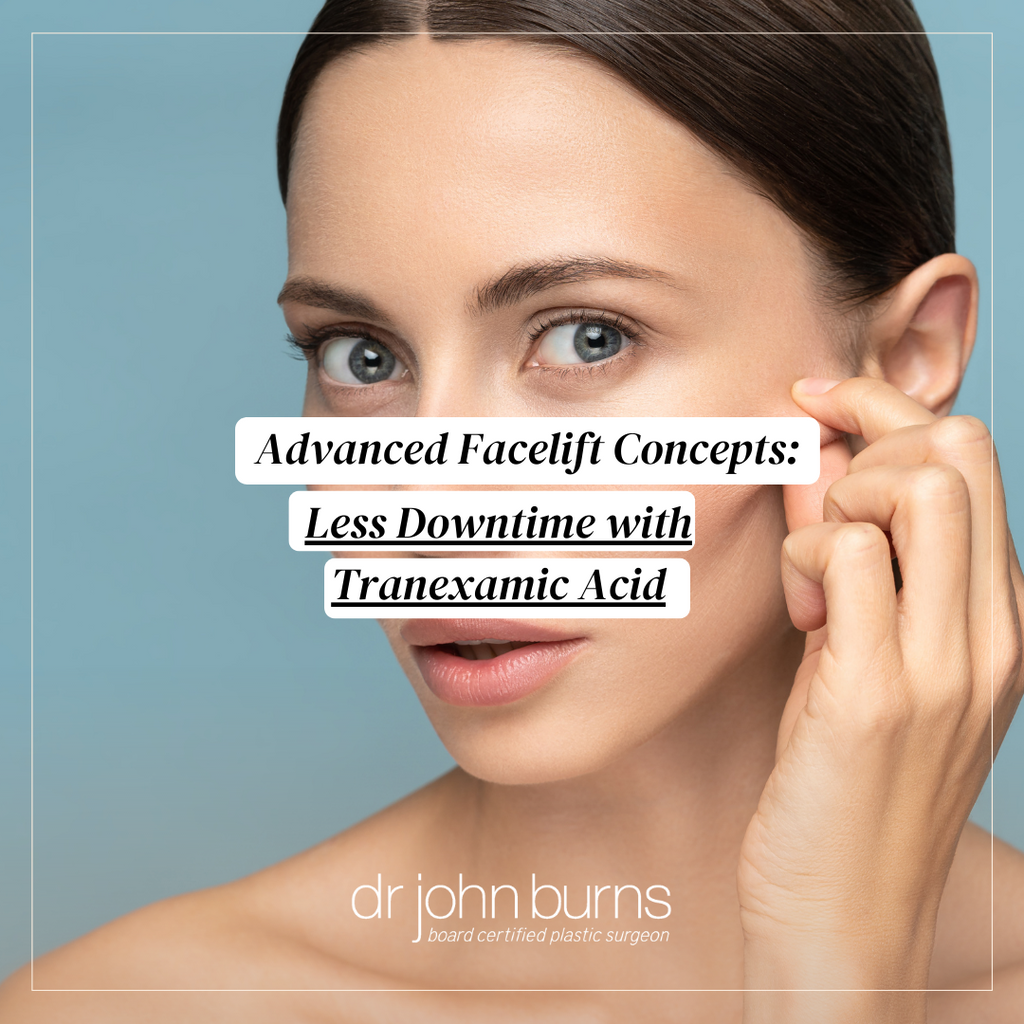 After consulting with thousands of women and men who desire facelift surgery, I can say that the number one concern for those who are ready to schedule their facelift procedure is the downtime involved in recovery. I treat a large population of c-suite executives and business professionals who have little time to stay tucked away from others to rest and recover. 
Another major obstacle for many patients is the perception of a long recovery and interruption to routine and schedule.  Facelift recovery generally entails the resolution of swelling, bruising, and healing of the incisions. Like with any surgical procedure, healing is progressive, with gradual improvement on a daily basis.
Using Tranexamic Acid in Facelift Surgery
The face and neck are very vascular with large numbers of blood vessels that can bleed during surgery, resulting in bruising.  In the past, local anesthetic was used with epinephrine or adrenaline to constrict the blood vessels which helped control bleeding and lessen bruising. However, when the vasoconstriction effect of epinephrine dissipates, there is a risk of rebound bleeding which can make the operation challenging to complete.
Tranexamic Acid Reduces Bleeding During Facelift Surgery
TXA is not a new medication.  It has a long history of use in medicine and surgery. It acts on the clotting mechanism stabilizing the body's ability to stop bleeding naturally.  Recently, Tranexamic Acid (TXA) has been utilized to dramatically decrease bleeding in surgery and the results have been nothing sort of revolutionary for facelift recovery. 
TXA's Mechanism of Action
Vascularity of the face often presents bleeding and bruising challenges both during and after surgery. Current protocols utilize epinephrine added to local anesthesia to minimize bleeding and allow for better visualization during dissection of the SMAS layer. The use of tranexamic acid (TXA) has been shown to reduce blood loss during facial plastic surgery procedures. A randomized controlled trial demonstrated that patients receiving TXA had less total blood loss compared to those given placebo. These findings are consistent with previous studies demonstrating the efficacy of TXA in decreasing blood loss during orthopedic surgeries.
In contrast, a recent meta-analysis found no significant difference in blood loss between patients treated with TXA and controls. However, there was a trend toward decreased blood loss in the TXA group, suggesting that further study is warranted.
How I Use TXA In Facelifts
With facelift aesthetic surgery, TXA is given both IV and as an additive to a solution that is used to irrigate the areas prior to closing the incision sites on the skin.  Studies also prove that decreased bleeding results in less inflammation and reduced swelling of the face and neck
The bottom line is that TXA has revolutionized the recovery from a face/neck lift.  With reduced bruising and swelling patients are back to their routine in a matter of days rather than weeks.