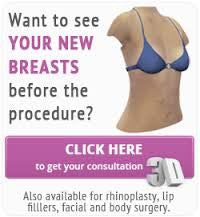 Choosing the correct implant size is perhaps the most anxiety causing decision women face when deciding to undergo breast augmentation.  Most women rely on non precise methods of choosing an implant size such as trying on breast implant sizers under a bra or even using rice in zip locked bags placed under a bra to simulate size.  These methods tend to overestimate size due to the addition of the bra and empty space around the sizer which is placed over the breast.  With these methods patients will tend to choose an implant that is ultimately too small for their goal. 
The fear of choosing the wrong sized implant forces many women to make a choice they are uncomfortable with going into surgery.  With breast augmentation, precision is critical in surgery and should be in the consultation process as well.  Having peace of mind going into surgery is critical to the overall process.
3D photographic imaging now provides a reliable, accurate, and proven method of breast implant sizing which puts the power of choice in the patient's control.  3D imaging can be extremely precise as all available implant manufacturers, shapes, sizes, and profiles are available to simulate.  The 3D image is easily generated from 3 still images which can be emailed to the office or done during the consultation in the office.  There is also an option to scan the breasts for a more immediate image.  Once the 3D image is available, all know breast implants can be simulated so that the patient will see exactly what she will look like with a particular implant.  
We recommend a system called Crisalix which is more mobile and flexible than in office devices such as Vectra 3D.  During our online or personal consultations in the office, Crisalix is used for all breast augmentation consultations.  We can simulate any option a patient wants including implant manufacturer (Allergan, Mentor, Sientra), implant types, profiles, and shapes.  The simulated photographs can be emailed to the patient for further review and consideration.  With Crisalix, our patients feel comfortable with the size and type of implant they are choosing because they can see it before the procedure. Crisalix gives our patients more control in choosing their desired implant and gives them peace of mind going into the procedure.