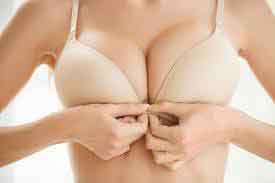 Breast augmentation recovery involves following your surgeon's instructions carefully to avoid complications and give yourself the best possible odds of fast healing. After surgery, the breast incision is covered with a surgical band-aid. It is essential to rest and avoid heavy lifting for some time after your surgery; your doctor will give you specific instructions regarding when to return to normal activities. You may notice temporary swelling and pain, which can be relieved with prescription or over-the-counter pain medications. 
One of the items on your list of instructions may be about wearing a bra post-op.

You may be wondering about the best bras for breast augmentation aftercare, as there are so many different types. In fact, which bra to wear is one of the most common questions surgeons receive from breast augmentation patients. After your procedure, you may be excited about the prospect of buying new bras, which is understandable given that you now have a whole new look to enjoy.

However, you may also feel a bit anxious, wanting to make sure that you choose the best bras for breast augmentation aftercare that correspond with the phase of postsurgical recovery.
Wearing a bra postop and feeling confident that you've chosen well is easy with a few tips, including the understanding that you should select a bra that's appropriate for your particular stage of recovery.
Best post-surgery bras
Your breasts will be swollen and sore immediately following your surgery; during this phase, you will need to wear a surgical bra or medical compression bra without underwires. These bras are good at keeping your wound dressings in place, protecting breast tissue, preventing the implant from moving, reducing swelling, and promoting healing. They offer a higher level of support than sports bras, helping you get back to your average level of activity sooner and facilitating a quicker overall recovery. Your doctor may recommend a specific bra as well as instructions on how long to wear it. In general, you should expect to wear this bra day and night for a week or two.
When your surgeon gives you the go-ahead, you may switch to a supportive sports bra. Be sure to look for these features when shopping for yours:
Underwire-free design. Underwires can cause irritations to your incisions and impede healing.
Front closure. A bra with a front clasp will be easier to take on and off without excessive stretching or arm movement.
A good fit. Keep in mind that your new breasts are heavier than your old ones. Look for a bra that offers excellent support and keeps your breasts positioned high on your chest.
Best bras for when you've recovered
No two women heal the same, so there is no single timeline for transitioning from a sports bra to regular, more feminine bras that work for everyone. Your doctor will make sure that your incisions have healed properly, your breasts have settled into their final positions, and sensation is returning normally along the breast skin before giving you the all-clear to make the switch.
This is probably the moment you've been waiting for – shopping for pretty new bras to go with the new look you love. For the most part, you are free to choose bras that highlight your new breasts and make you feel beautiful, as long as the bras you select have excellent support and don't allow your implants to drop too low. Continuing to wear a good bra after your breast augmentation recovery can help your implants look gorgeous for years to come.
What if you've had fat transfer instead?
If you have elected to have a fat transfer procedure instead of implants, your post-op instructions will be quite different – but just as important to follow. This procedure reshapes the breasts by using fat from another part of your body instead of implants. The downtime for fat transfer is very different and largely dependent on the liposuction part of the procedure. While there are no significant incisions on the breast with fat transfer, the bruising and swelling with fat transfer can be more than with implant augmentation. 
Liposuction is used to remove fat from a body part such as the thighs or abdomen. After fat transfer, it is reasonable to feel some soreness at the liposuction site as well as in the breasts for the first few days. However, there is usually no need to restrict all activity. Resting for a couple of days is sufficient. Most patients will be able to resume moderate activity levels after a day or two. Mild pain medications are usually enough to deal with any discomfort.
When it comes to choosing bras, however, the aftercare instructions are more similar to those of implant surgery. A sports bra is appropriate for the first few weeks; you should choose one that provides adequate support without being too tight. When your doctor gives you the go-ahead, you're free to select any bra you like, as long as it offers proper support.
Regardless of the type of procedure you and your surgeon decide on, breast augmentation offers many women the opportunity to love the way they look. Whether you would like your breasts to be larger or look more youthful, you would like to replace breast volume lost during pregnancy and breastfeeding, or you need breast reconstruction surgery following a mastectomy, breast augmentation can help you achieve the appearance you want. You'll feel great about yourself and enjoy a significantly improved quality of life. Be sure to protect the results of your surgery by wearing the right bras.
How to Find a Bra That Fits
If your bra doesn't fit properly, your breasts can sag which can result in back or shoulder pain. 
Signs that your bra might not fit properly:
The bra band rides it too high in the back and is not at the same level as the front.
The shoulder straps need to be shortened.
Your breasts are not contained in the bra cup and fall out when you bend over.
The bra does not conform to your breasts and is loose around the areola.
It is important to note that bra sizing will vary from manufacturer to manufacturer.  A Victoria Secret bra might not size exactly the same as one from Lululemon or Calvin Klein.
So how do you find the perfect bra?
Step 1:  Measure Your Bra Band Size?
The band size is measured in inches and is the number part of the size. The band size is the measurement around your rib cage just under your breasts.  Next, add four if your measurement was an even number and five if it was an odd number to give the correct band size. The band size does not increase after breast augmentation because it is determined by your rib cage measurement and not the cup size. 
Step 2:  Measure Your Cup Size?
The cup size is measured across the widest part of your actual breasts. Subtract the band size from the bust-size measurement and find that number on the chart below.
NOTE:  The bigger the band size, the bigger the cup size associated with that band size. For example, a 34D is larger than a 32D so it is important to select the correct size for both parts band and cup size. 
Step 3:  Bra Straps
Bra straps should be comfortable and not dig into your shoulders. Bra straps should not the primary support for your breasts. If the bra straps dig into your shoulders, lengthening them a bit may help and, bra strap extenders may be necessary for women with a long torse.
Finding the right bra can be challenging after breast augmentation and trail and error may be necessary.  However, a perfect fitting bra not only provides comfort but also supports your breasts and is a very critical part of maintaining beautiful breasts.