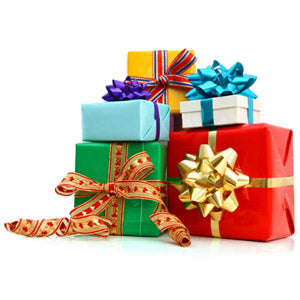 Whether you're shopping for Christmas gifts, looking for the perfect birthday present for someone special, or just feel like giving someone you love a "just because" present, there's one option you may not have considered: gifting plastic surgery. Cosmetic surgery can make an amazing gift for the right person, one that shows that you care about their happiness and well-being and that they are worth it.
When it comes to plastic surgery gifts, there are some guidelines to keep in mind that you may not need to worry about with more traditional gifts. It certainly isn't your everyday stocking stuffer, so you need to give this gift thoughtfully and only if you're sure it's something the recipient wants. The gift you're offering is really the gift of a consultation with a board-certified plastic surgeon and a promise to cover all or part of the expense of the procedure if it is deemed an appropriate procedure for the recipient and they turn out to be a good candidate. At the consultation, the patient will get to know their prospective surgeon and learn more about their options.

If you're considering gifting plastic surgery, keep the following tips in mind.
Give the gift of plastic surgery only to people who have mentioned wanting it. Recommending plastic surgery to someone who has never brought it up may be taken as an insult – make sure the person receiving your gift already wants the procedure.
Give the gift of a consultation first – never schedule plastic surgery or arrange to pay for it in secret. It's important to feel comfortable with your surgeon, so the person you're giving your gift to should have a comprehensive consultation with the cosmetic surgeon of their choice.
Pre-pay only for procedures the person already gets. For example, if you want a present ready to give, you might pre-pay for a procedure such as Botox that the person receives regularly.
Include aftercare in your gift. Plastic surgery gifts don't end when the patient leaves the hospital or surgery center. Offer to be an attentive caregiver during the recovery period as well.

The most popular cosmetic procedures
The plastic surgery procedures most often chosen (and gifted) include:
Liposuction is a procedure that involves suctioning fat from specific areas of the body to create a shapelier and slimmer silhouette.
Tummy tuck. A tummy tuck, or abdominoplasty, removes excess skin and fat from the abdomen and smooths and tightens the remaining skin.
Breast augmentation or reduction. Many women would like to change the size or shape of their breasts, and there are several cosmetic procedures available to give them the look they want.
In this surgery, the facial skin is tightened and smoothed to reduce wrinkles and soften lines, giving the person a more youthful look.
Gynecomastia treatment. Many men have excess breast tissue they would like to remove. A procedure to reduce the size of this area in men, gynecomastia treatment is a very popular choice.
Mommy makeover. A mommy makeover is a personalized series of procedures designed to address a woman's specific needs after having children.
Who is a suitable recipient for plastic surgery gifts?
It pays to consider your audience when recommending plastic surgery as a gift. Women are more likely than men to be receptive to the idea, although there are plenty of men who want cosmetic procedures. Your gift is also likely to go over better with a younger recipient; Millennials and Generation Xers are generally more open to the idea of plastic surgery as a gift than Baby Boomers. However, anyone who has expressed a desire for a cosmetic procedure is a great candidate for a plastic surgery gift. Whether you are a man giving the gift of cosmetic surgery to your wife, significant other, or friend or a woman gifting a specific procedure to your mom, sister, friend, or partner, your generous gift is sure to be met with abundant joy and gratitude.
The key to giving the gift of plastic surgery is to give it selflessly. It should be a gift for the recipient – not a gift for the giver. If the recipient has never mentioned plastic surgery, then your gift may send the wrong message. If your partner, family member, or friend has mentioned wanting a facelift or a breast reduction, then your gift is going to be warmly and gratefully received, and the recipient will know how much you care about them.
If you would like to surprise someone special with a consultation with a board-certified plastic surgeon, contact Dr John Burns. We offer a wide range of cosmetic procedures including facelifts, mini facelifts, neck lifts, brow lifts, lip augmentation, breast augmentation, breast lift, breast reduction, liposuction, abdominoplasty, mommy makeover, massive weight loss body contouring, and thigh lifts. We also offer rejuvenating facial procedures such as Botox and Juvederm. If your recipient is a man, we have plenty of options for him as well – in addition to the above procedures we also offer hair restoration, gynecomastia treatment, Botox and fillers for men, and many other procedures designed to help our male patients look and feel great.
Dr John Burns is passionate about cosmetic surgery and the benefits it provides for his patients. The goal is always to produce natural-looking results that allow a person's own good looks to shine through. We focus on safety, patient satisfaction, and patient education in everything we do, and would love the opportunity to help you give an extraordinary gift to someone you love. Contact us today for a consultation.